'Modi hai to Mumkin Hai' BJP slogan for Lok Sabha polls, says Jaitley
| Published on Fri 15 Mar 2019 10:27 AM IST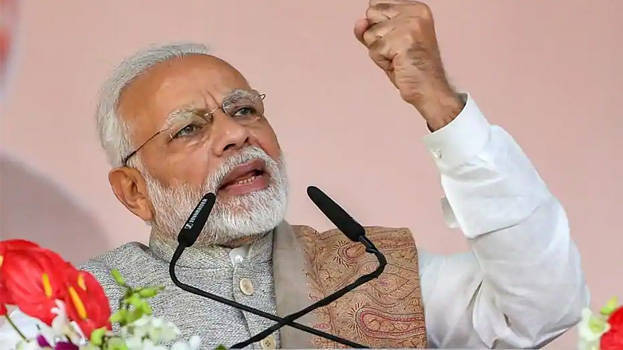 NEW DELHI: The BJP has chosen "Modi Hai to Mumkin Hai" (Modi makes it possible) as its slogan for the summer's Lok Sabha election on the back of Prime Minister Narendra Modi's image as a doer, finance minister Arun Jaitley said.
In a Facebook post, Jaitley added that Modi has demonstrated his indefatigability by working round the clock over the past five years, achieving results that wouldn't otherwise have been possible.
Modi has proved to be a quick learner, adapting easily to foreign policy, economic and strategic issues, Jaitley said in the Facebook post. The Prime Minister's clarity and determination have facilitated quick decisions making even in complicated matters, he added.
"Many India observers across the world have marvelled at India's pace of taking decisions and implementing them. The BJP, therefore, has chosen an effective slogan for the forthcoming elections "Modi Hai to Mumkin Hai" – 'Modi makes it possible'," the finance minister said.
The Congress, meanwhile, targeted the PM over the slogan. "The government lies and misleads the Supreme Court — Modi hai to mumkin hai. The PM and his minister hide their degrees — Modi hai to mumkin hai. Economic data is kept away from public — Modi hai to mumkin hai. There are 8 crore unemployed Indians because Modi hai to mumkin hai. Farmers are in distress because Modi hai to mumkin hai. ISI inspects our defence installations because Modi is there. The list is endless. However, this is typical RSS game. Focus the entire campaign on Modi and establish him as the alibi in the sure-shot wipeout that the BJP will face on May 23," Congress spokesperson Pranav Jha said.
Jaitley listed out a number of steps undertaken by the Modi government, and said that for the first time in history, for five years in a row, India has been the fastest growing major economy in the world.
Among other things, Jaitley also said that under Modi's premiership, India demonstrated through the surgical strike of 2016 and air strike of 2019 against Pakistan that it was willing to adopt unconventional methods of attacking terror at the point of its origin.
Jaitley referred to the Swachh Bharat (Clean India) programme, the housing-for-all scheme, the income support for farmers and other such schemes to underscore his government's focus on the underprivileged.
"Has any Government done more?" Jaitly asked, emphasising that motivation and leadership have made the vital difference.