Neyyattinkara suicide: Police recovers Lekha's notebook mentioning about abuse
| Published on Thu 16 May 2019 02:53 PM IST MALAYALAM VERSION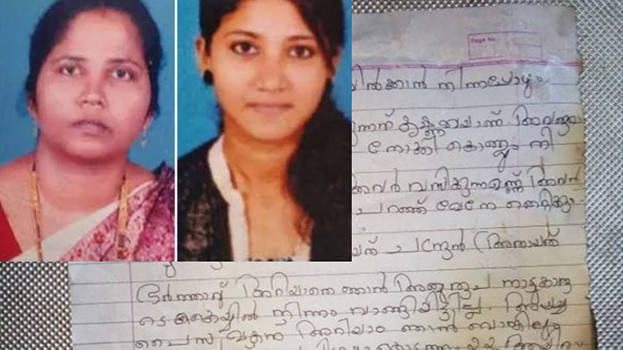 THIRUVANANTHAPURAM: The police Thursday recovered a notebook of Lekha who immolated along with her daughter Vaishnavi at Neyyattinkara. She had mentioned family problems in the notebook. She had written the expenses and other things in the book.
The book has mentioned family disputes. She had penned that her husband had questioned about the money sent from the Gulf--as to what she did with the money and all. He tried to put everything on her head.
Lekha wanted to sell the house for her daughter's education and to avoid loan recovery. However, her mother-in-law didn't permit it. Whenever the bank issues a notice, a pooja used to be conducted. Even hours before her death, she was mentally harassed by her husband and mother-in-law. She was harassed in the name of dowry.
When police recorded the statement of Chandran, he told them that he along with his mother had performed sorcery to avoid the sale of the house. The day Lekha committed suicide, his mother had a fight with her. His mother had asked Lekha, "Why don't you go and die'.
A sorcerer from Kottoor conducted the pooja in a place covered by a tarpaulin. When a notice is obtained from the bank, a pooja will be conducted. Chandran and his mother believed that if a pooja is conducted, all the problems will be solved.