Record polling in Kerala, fronts expect good win
| Published on Tue 23 Apr 2019 03:24 PM IST MALAYALAM VERSION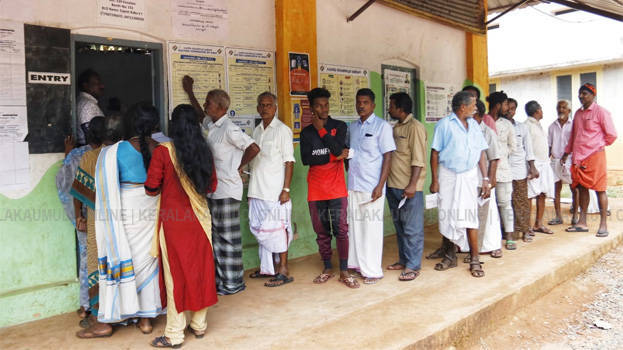 THIRUVANANTHAPURAM: The state is witnessing a record voting in the third phase of the Lok Sabha polls. Kerala registered 50% voter turnout in the first seven hours of polling. The highest turnout was recorded in Wayanad, Kannur and Kollam with 50 %. 47.39 polling was registered in Kerala so far. A record voting registered in the constituencies where a strong triangular race is seen and this has given high expectations for the three fronts. The Left, Right and the NDA said they have a favourable trend in the state.
A long queue of voters was seen in the morning itself. The queue in the morning hints that a highest percentage of polling will be recorded. The polling percentage is expected to rise as there are hours remaining to cast votes. The polling percentage was 73.94 last time, but this time they expect it to cross 75%. When a lower turnout was seen in Thiruvananthapuram and Pathanamthitta districts last time, this time it was different. No untoward incidents have been reported from any parts of the state.
There was anxiety when glitches were noticed in some voting machines in some booths. The chief electoral officer said it was not a matter of concern. The errors were noticed in some machines due to moist. It was immediately replaced by new ones. Polling was disrupted for some time at the booth in Kannur where Chief Minister Pinarayi Vijayan came to cast his vote.
The three major fronts-- ruling LDF, UDF and the NDA had put up a fierce fight in many constituencies.
A total of 227 candidates are in the fray in the state, including 23 women.
Wayanad constituency has the maximum number of candidates-- 20 and the lowest are in Alathur in Palakkad (6).
There are a total of 2.61 crore voters-- 1,26,81,992 males, 1,34,64,688 females and 173 third gender voters.
The strength of first time voters in Kerala is 2.88 lakh in the age group of 18-19.
The polling would end at 6 pm in 24,970 polling stations.