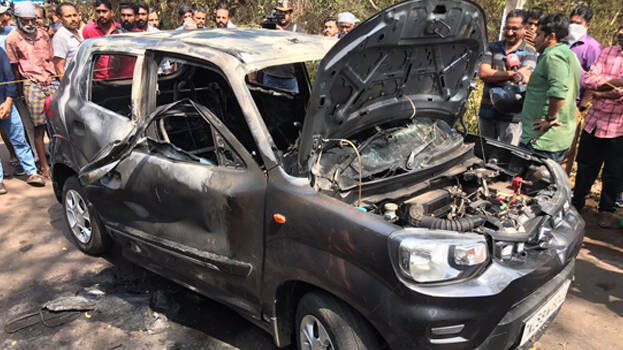 KANNUR: The family and the officials of MVD have denied the allegation that the petrol-filled bottle in the car led to the accident in which a moving car caught fire. Two passengers including a pregnant woman died in the incident. A bottle was found under the driving seat of the car and it was rumored yesterday that it was petrol. But according to MVD, if there was petrol in the bottle, the car would have been completely damaged. KK Viswanathan, father of Reesha who died in the accident, said that there were three bottles of water inside the car.
He said that it is painful that such conclusions are being circulated in the media before the results of the chemical tests came out. It is clear from the investigation conducted by the MVD officials that the fire started due to a short circuit at the bottom of the steering wheel.
The reverse camera and the infotainment system were newly installed in the car. According to MVD report, the short circuit occurred from its wiring.
The accident happened while they were on the way to the hospital due to labor pain. The car was burnt near Kannur District Hospital. There were six people in the car. Four people, including the child in the back seat, were rescued. Prajith (32) and his wife Reesha (26), who were sitting in the front seat, died.