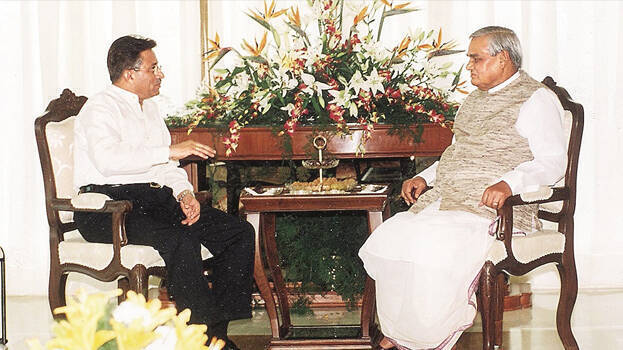 Born in India and became India's arch enemy. Finally, died as a traitor and a fugitive. This is the fate of former Prime Minister of Pakistan Pervez Musharraf, who passed away today.

Pervez Musharraf was born on August 11 in 1943 in Delhi as the son of Syed Musharraf, who was a civil servant during the British rule. Musharraf's family home, Naharwali Haveli was in Daryaganj in Old Delhi. Musharraf lived here until he migrated to Karachi at the age of four after the partition of India. Musharraf's grandfather bought this building, which was a ministerial residence during the last Mughal king Bahadur Shah Zafar's time. Musharraf, who migrated to Karachi, studied and grew up there. He studied at the Royal College of Defence Studies and Pakistan Military Academy. Then he joined the military service.

Held tight anti-India
Musharraf did not directly participate in the Kargil war, but pulled the strings and participated in both the wars against India. Musharraf was a second lieutenant in the 1965 Indo-Pak war and commanded the army in the Khemkaran sector at that time. He was the company commander of a commando battalion in the Indo-Pak war of 1971. Musharraf also received many high honours for his military achievements that day. It was on the back of these achievements that he became the Chief of Army Staff of Pakistan.

Musharraf was always anti-India. Musharraf publicly said that he would not salute Vajpayee who was the then Prime Minister of India during the Lahore bus journey in 1999. Musharraf thought that he could invade India and subdue it, and if he did so, the whole world would stand with Pakistan. He did not hesitate to say this publicly. Musharraf's arguments were not taken seriously by the army and the government as the lessons of two wars were at hand. However, Musharraf was not ready to give up his wish and that was the Kargil war. Even though there was no guarantee that he would win and did not have the support of the rulers, Musharraf executed his wish he had in his mind.

A stepping stone to power
In Pakistan, the army has always been more important than the rulers. The events later confirmed that the Kargil war was seen as a stepping stone to the Musharraf regime, which was well aware of this. Musharraf, who was the army chief, seized power in October 1999 by ousting Prime Minister Nawaz Sharif. However, he could not stay in power for long. In 2008, he had to resign to avoid impeachment proceedings. Finally, he was charged with treason and had to stay in another country without being able to set foot in Pakistan, and died there itself.