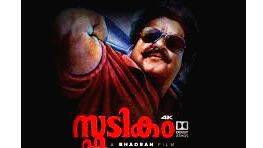 KOCHI: The crew celebrated the second release of the movie 'Spadikam', starring Mohanlal in the lead role as 'Aadu Thoma'.
A program called 'Ormayil Spadikam' was organized at Durbar Hall ground with the participation of the cast and crew of 'Spadikam', which was released 28 years ago. Actor Janardhanan inaugurated the event. Director Bhadran, producer Goodnight Mohan, actors Spadikam George, Ashokan, Chali Pala, Johnny, Arya Anoop and make-up man Pattanam Rasheed were present.
'Chekuthan' lorry from the film was also present. The crew commemorated artists and crew members who were part of the film including Thilakan, KPAC Lalitha, Nedumudy Venu, NF Varghese, Rajan P Dev, Shankarady and others, The kids and close relatives of the deceased celebrities were the guests at the function.
Mohanlal couldn't reach the function as he was busy with the shooting of another film but he addressed the event through a voice message.
The upgraded digital version of 'Spadikam' will be released in theaters on 9th. The first release was on March 30, 1995.