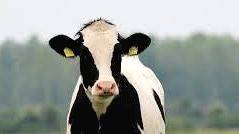 CHADAYAMANGALAM: A mangalsutra (thali) of five sovereigns which went missing under mysterious circumstances was obtained after two years and that too from cow dung. Though the 'stolen property' has been obtained, the accused 'cow' has not been found. There are no witnesses in the case.
The chain was got from the cow dung bought for agricultural purpose by a teachers' couple. Sreedharan, a native of Karavaloor, who sells cow dung after collecting from houses, sold it to this couple six months back. The couple got the chain on June 5 while taking it. The name 'Ilyaz' was written on it. The couple had promoted it in the social media for the owner of the chain.

Ilyaz of Thudyanoor Thekkil had contacted the couple the other day. He told them the chain went missing two years back and they had suspected the cow to have swallowed it. Ilyas had sold the cow after some time and the latter had sold it to someone else. It was a black cow. The couple is planning to hand over the chain to Ilyaz as they have identified the owner. The chain will be handed over to Ilyaz in the presence of police.