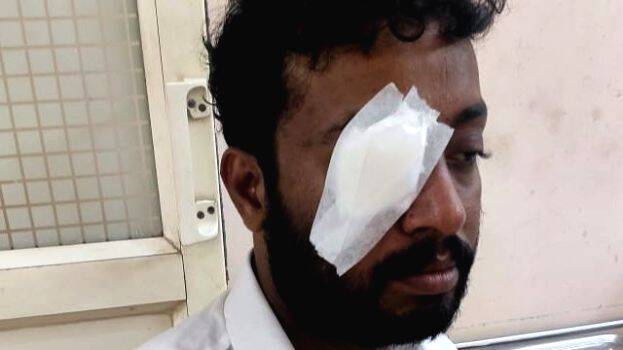 Conflict in Assembly March
State leader's eye injured
THIRUVANANTHAPURAM: The Youth Congress workers, who took out a legislative march against the fuel cess in the state budget, burnt bike in protest. The march ended in conflict. While trying to overturn the barricade, there was a scuffle with the police. State General Secretary of Youth Congress Binu Chullil got a serious eye injury. Police used water cannons. The leaders and activists who blocked the road were arrested and removed by the police.
The protest was yesterday afternoon. After the march was stopped by the police at the barricade, the activists pulled up an old bike and burnt it with petrol. The fire broke out and the fire brigade extinguished it. The activists also tried to throw the remains of the burnt bike beyond the barricade. When the police stopped the attempt to remove the barricades, there was a heavy protest.
District president Sudhir Shah Palode, state office bearers Rahul Mamkootathil, Abin Varkey and other sixteen people were arrested. Opposition leader VD Satheesan inaugurated the march. He said that he would intensify the protest against the anti-people budget. The Left, which had protested against the Center raising the fuel tax, is now imposing the tax in Kerala. The people who are in crisis due to price hikes will not be allowed to suffer anymore. He said that he will not back down until the proposals are withdrawn.