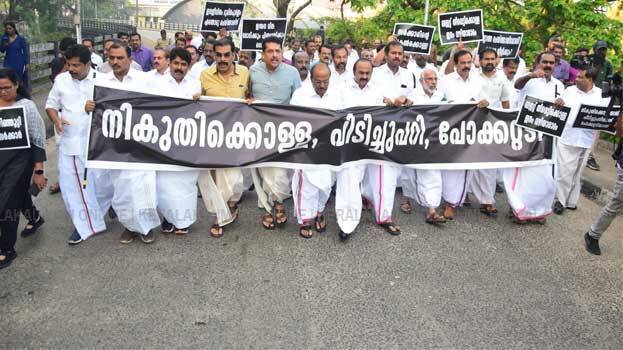 THIRUVANANTHAPURAM: The assembly was adjourned following opposition uproar amidst strong protests against tax hike announced in the state budget, including fuel cess. The assembly proceedings were expedited after the opposition trooped to the well of the house and protested. The question hour was partially cancelled. The opposition also raised slogans in front of Speaker's dais. Soon the proceedings were expedited and the assembly was adjourned. The assembly will convene again on February 27.
As part of the protest, the Congress MLAs, led by the opposition leader V D Satheesan, reached the assembly on foot from the MLA Hostel.

Satheesan accused the government of being arrogant during the protest march. The arrogance of getting a second term. The government scorns the strike. Pinarayi Vijayan is the one who said to protest without paying taxes. The opposition leader accused Pinarayi of forgetting everything.

Four thousand crore tax proposals have been put forward when the people are struggling. This cannot be tolerated. The moral responsibility of the opposition is fulfilled. The leader of the opposition also asked if heard anywhere that taxes will not be reduced because the opposition is protesting.

Meantime, the satyagraha by four opposition MLAs in front of the House is continuing. The opposition has decided to organize strong protest programmes at the district level as the assembly session has ended. The security of Finance Minister K N Balagopal's has been tightened in view of opposition protests. The opposition protests resulted in clashes in many districts yesterday. The security was increased in this situation.