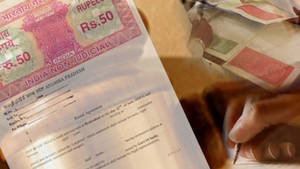 THIRUVANANTHAPURAM: After the government decided in its latest budget to increase the fair price of land, people are pacing into the Sub registrar's office for registration before the rule comes into effect on April 1. The sudden surge in registration works has gifted a glitch to the server system in the office which added to the worries of the already drained-out employees failing to manage the rush.
Meanwhile, the authorities informed that the server has been put back to work and dismissed the rush factor but said the glitch happened due to some reforms tried. Almost 5939 applications came out of which 4188 got registered. The rush proved an ache to the staff in the office but the one-day income added to Rs 22. 61 crore.
The fair price of land was increased to a 20% high. There are almost 358 sub-registrar offices in the state. In a financial year, the estimated income of these offices ranges near Rs 3800 crores. The land registration is turning completely to the E-stamp mode starting from April 1. This move is a straight hit to 1200 and more vendors making a living through this niche.