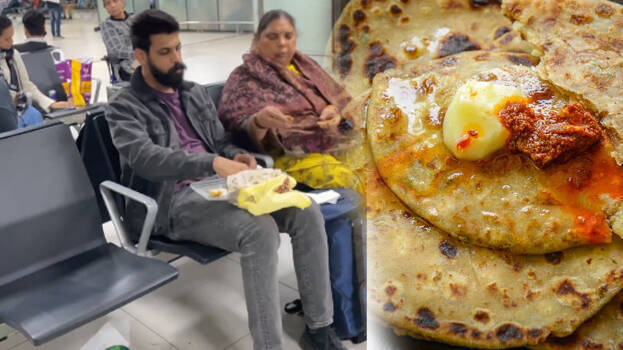 PANAJI: Airline travel which was once the monopoly of the rich is now accessible to all. But still high prices are charged for food at the airport. There are even places in our country where a tea is charged more than Rs 100. Through this video, a mother and her son advise introduces a way to change this situation.
In the video, Madhur Singh and his mother are eating homecooked aloo paratha and nimbu ka achaar at the airport before boarding a flight to Goa. Both of them ate homely meals while sitting in the waiting area of the airport. He also posted a video of eating at the airport with his mother. "Some people looked at us, oddly, but hey, they don't matter and we don't care.", he wrote. He concludes the post by saying that one should live as per his spending capabilities regardless of what society might have to say or recommend.
"Travelling in flights have become easier for middle class but the societal pressure of buying ₹400 worth dosa and ₹100 worth water bottle is still too damn high.", Singh tweeted with the video.