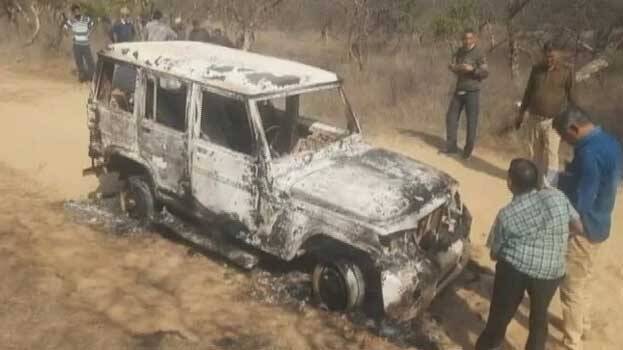 CHANDIGARH: Two youths were allegedly kidnapped and burnt to death on suspicion of being cow smugglers. The charred skeletons were found inside a Bolero SUV in Haryana's Bhiwani district on Thursday morning. Nasir (25) and Junaid (35) have been killed.
They were abducted from Rajasthan's Bharatpur district last Wednesday. On the complaint of Nasir and Junaid's family, a case was registered against five people. At the same time, the police said that they are trying to confirm that the charred bodies are those of Nasir and Junaid. The police have gone to the spot with their relatives to identify the bodies. The police said that it can be confirmed after the post-mortem and DNA test.
The cops are also investigating whether the two were burnt alive or died in the fire from the car. Relatives identified the car in which they were found burnt. They also revealed that Nasir and Junaid knew the owner of the car.
The police are trying to find out whether it was a murder accused of cow smuggling. Five cases have been registered in Junaid's name in connection with cow smuggling. But there are no criminal cases against Nasir.
As per police conclusion, Monu Maneshwar, Lokesh Singhia, Rinku Saini, Anil and Srikant are the accused. Monu Maneshwar is a Bajrang Dal activist. The five people claim to be'gau rakshaks' (cow protectors).