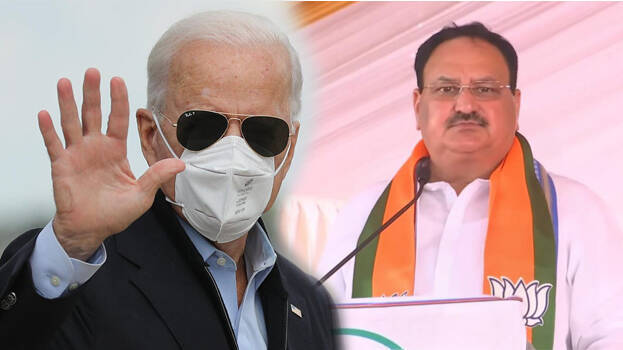 UDUPI: BJP chief JP Nadda praised Prime Minister Narendra Modi for the country's covid vaccination policy. He said that US president Joe Biden still wears a mask as the vaccination rate in the US was just 76 percent. JP Nadda was addressing a public gathering as part of election campaign event in Udupi, Karnataka.
"You must be seeing Joe Biden on television wearing a mask. This is because, in America, only 76 per cent of vaccinations have been done. Even in Europe, the vaccination rate is 67 per cent. But here, I can see you all sitting close to each other without wearing any face masks. This is only because PM Modi has given us 220 crore jobs, including booster doses," he said.
At the same time, the Karnataka government had announced curfew measures till the last New Year celebrations to prevent Covid cases. Masks must be worn in closed spaces. Karnataka government has also made masks mandatory in restaurants, pubs, theatres, schools and colleges. In addition, JP Nadda came made these remarks while the central government directed not to avoid masks completely for social security.