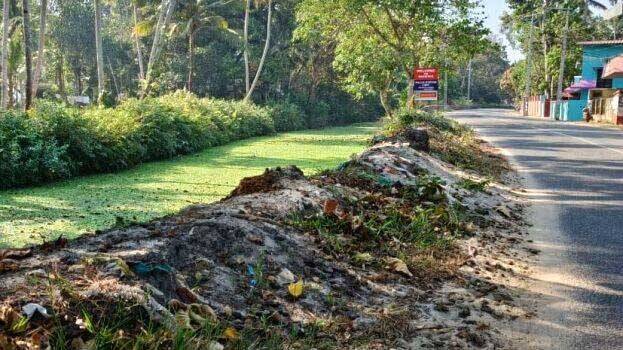 ALAPPUZHA: The sand worth lakhs obtained after deepening the Karthikappally canal is being lost due to the negligence of the authorities. A year has passed since the soil was piled up on both sides of the canal, but no action has been taken to auction it. Locals say that the amount of soil is decreasing day by day.
It is also alleged that the activities aimed at protecting the Karthikkapally canal which is of historical importance and also to facilitate the flow of water have become a farce. The 12-km-long Karthikapally canal, which starts from Karuvatta and flows through Kumarapuram, Chingoli and Karthikkapally panchayats and falls into the Kayamkulam backwater, has become a waste carrier. In March 2015, as part of the rehabilitation of the canal, Rs 1.77 crore was spent on deepening the stream. The work done without adequate study or scientific measures for conservation did not benefit the locals. At that time, there was a strong allegation of a massive fraud in the implementation of the project.
The deepening took place again in 2021. The soil dug from the stream using an JCB was deposited on both sides of the stream. A good portion of this sand was washed back into the canal by subsequent rains.
The soil lies on both sides of the stream for a distance of several kilometers. The soil deposited on the west bank causes difficulty to pedestrians. If the sand is auctioned and sold, lakhs of rupees will reach the government's exchequer. Some people also transport sand during night.