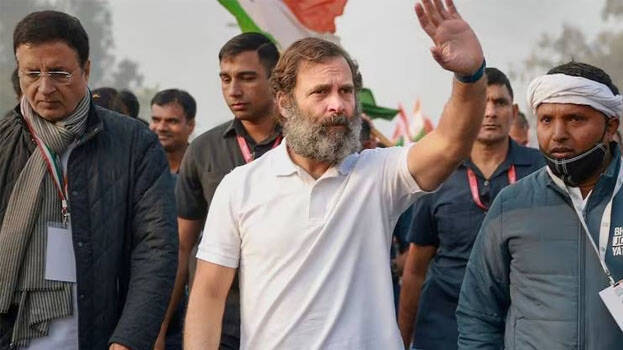 RAIPUR: In the wake of the success of Rahul Gandhi's Bharat Jodo Yatra from Kanyakumari to Kashmir, the Congress is all set to organize another yatra. The Congress plenary session in Raipur decided to conduct another Bharat Jodo Yatra- from Pasighat in Arunachal Pradesh to Porbandar in Gujarat.
Congress leader Jairam Ramesh said that the second phase of the Bharat Jodo Yatra will be an east-west yatra and will not be a complete padayatra, as there are jungles and rivers on this route. "It would be a multi-modal yatra, but mostly it would be a padayatra," Ramesh said. He informed that the trip will take place in June or before November this year.
At the same time, the Congress plenary session called for adequate preparations for the elections. It has also been demanded that special attention should be paid to Rajasthan, Madhya Pradesh, Karnataka and Chhattisgarh, where elections are taking place. Assembly results in these states are crucial in the upcoming Lok Sabha elections. The plenary session has also called for progress with discipline and unity to regain the glory of the party.
In order to win the elections, the plenary session has urged to make announcements like writing off farmers' debt. This is included in the agriculture resolution passed by the Congress plenary session. Congress assures that there will be no confiscation of farmers' land and no criminal action against farmers. The resolution also promises to ensure support prices for all crops in the country. The Congress also promises to conduct a caste census in the country targeting backward Dalit votes.