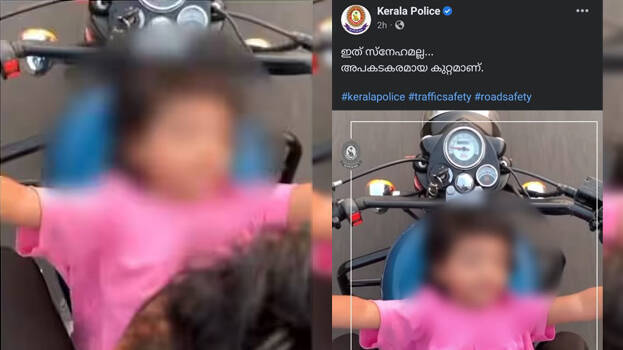 THIRUVANANTHAPURAM: Kerala Police has shared another example of dangerous driving. Kerala Police has shared such a video on social media as several accidents occur daily due to reckless driving which endangers life of other passengers as well.
The video of a child travelling in a bullet by lying in the tank has been posted on the official Facebook page of the Kerala Police. The video has been shared with a warning that driving with a child like this on a bike without proper safety measures is not love but a dangerous offence.
Many incidents in which kids are being taken in cars and two-wheelers without proper safety standards are being reported. Special safety facilities have to be added for children in vehicles which are generally made for travelling by adults. Many people avoid these and continues travel. Also, many driving videos without following safety guidelines are being circulated through social media. Kerala Police posted the video amid this situation.