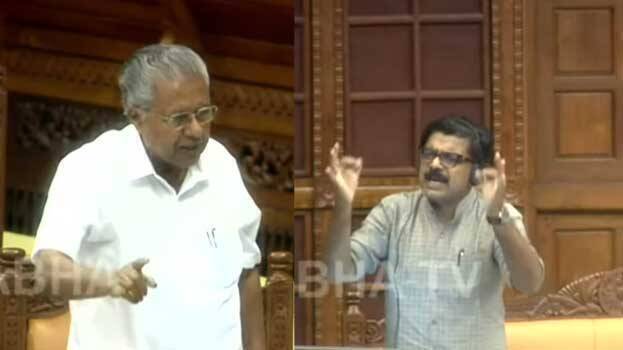 THIRUVANANTHAPURAM: A verbal spat between the ruling party and the opposition was witnessed in the assembly in connection with the life mission bribery case. The spat started after a notice for an adjournment motion was moved by the opposition. The notice was moved by Mathew Kuzhalnadan. The notice demanded a discussion after suspending the assembly proceedings on former principal secretary of the chief minister accepting bribe in Vadakkancherry life mission, his arrest and the probe reaching nowhere.
Minister M B Rajesh alleged that the motion is a baseless issue. Similar issues have been raised in the assembly earlier also. Old wine, old bottle and old label, but only the person has changed. There is an organized attack against the Life Mission. The latest example is the adjournment motion.
The MoU was signed with the UAE Red Crescent after the legal department seeing it. Neither Life Mission nor the government are financially responsible. Many voluntary organizations had earlier built houses on government land. The minister said Life Mission is an imaginative and dream project. He enumerated the number of houses completed and the money spent on it.
It is alleged that a certain amount was paid to some connected with the consulate by UNITAC Builders in gold smuggling. Life Mission and officials have nothing to do with this. Life Mission has not accepted foreign investment. The government has no objection to any kind of investigation on the irregularities if any in the scheme implemented by the UAE Red Crescent through their contractor. The minister also pointed that the allegation of Life Mission bribery is baseless.
Mathew Kuzhalnadan responded that Life Mission is the biggest political and scientific scam Kerala has ever seen. The WhatsApp chats of the former principal secretary had surfaced. Kuzhalnadan asked whether the chief minister had given permission for it. Swapna has mentioned of convening a meet in Cliff House. The man standing to the left of the chief minister is in jail today. The accused in the case are those who were on the right and left sides of the chief minister. If the allegations are false, then should approach the court. This is not scripted by me, said Kuzhalnadan.

However, Chief Minister Pinarayi Vijayan said the allegation is a blatant lie. He said Swapna has not seen him. The chief minister said Kuzhalnadan is becoming the lawyer of the agency. The chief minister said that if he wants advice to approach the court, he will approach Kuzhalnadan and there is no need to proceed according to the advice of him.