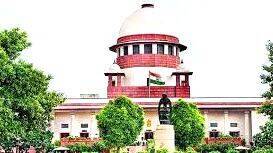 NEW DELHI: The Supreme Court on Tuesday refused to entertain Delhi Deputy Chief Minister Manish Sisodia's plea challenging his arrest in connection with the excise policy case. The apex court suggested Sisodia approach the Delhi High Court.
A bench headed by Chief Justice of India DY Chandrachud said that the court is not inclined to entertain the petition at this stage and suggested Sisodia to move to Delhi High Court.
"It can not interfere in the matter as it may open the gate of people approaching the top court in every such matter," the court remarked.
The court also remarked that various legal remedies are available for Sisodia in different forums including efficacious remedies for quashing FIR and bail plea in Delhi court.
The court remarked just because an incident happens in Delhi does not mean the matter will come to the Supreme Court. The court also said that it will set a very wrong precedent.
Senior advocate Abhishek Manu Singhvi who is representing the Delhi Deputy Chief Minister urged the court to grant relief to Sisodia, questioning why there was a need for arrest. The lawyer also said that Sisodia is not a flight risk.
The special Central Bureau of Investigation (CBI) court on Monday granted 5 days remand of Sisodia to the CBI till March 4, to interrogate him in the excise policy case. The senior AAP leader was produced before the court on Monday. Sisodia was arrested by the CBI on Sunday.
Aam Aadmi Party leaders and workers staged protests in various states on Monday, crying vendetta behind Sisodia's arrest and calling for his release at the earliest.
The workers were seen sitting on roads and chanting slogans while some staged a foot march wearing handcuffs against the BJP in the national capital. The workers were seen attempting to cross the barricades as the police tried to push them back. The police asked the party workers to step inside the office.
Meanwhile, the CBI on Sunday released a statement on Sisodia's arrests, claiming he was giving evasive replies and wasn't cooperating in the ongoing investigation in the liquor scam case.
The agency further said Sisodia had been summoned earlier on February 19 in connection with the ongoing probe, but had sought a week's time citing the Delhi Budget.
"The Deputy CM was issued a notice under section 41A of CrPC for attending the investigation on February 19, 2023. However, he sought time of one week citing his preoccupation," the CBI stated.
On his arrest, the CBI issued a statement saying, "He gave evasive replies and did not cooperate in the investigation despite being confronted with evidence to the contrary. Therefore, he has been arrested."