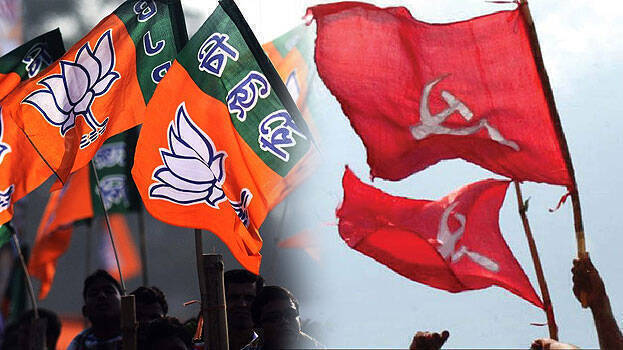 NEW DELHI: The counting of votes for the assembly elections in the northeastern states of Tripura, Meghalaya and Nagaland is in progress. As per latest reports, the BJP is unable to maintain the lead which they made at the beginning of the counting in Tripura. BJP is leading in 35 seats. Reportedly, they are leading in some of these seats by marginal votes. The Left-Congress alliance is leading in 13 seats while Tipra Motha party is leading in 11 seats. Others are leading in one seat as well. BJP's chief ministerial candidate Manik Saha is leading by a narrow margin.
BJP alliance is leading in Nagaland. NDP is leading in 38 seats while NPF is leading in three seats and Congress in two seats. Others are leading in 17 seats.
Trinamool Congress is making an unexpected breakthrough in Meghalaya. It is reported that Trinamool Congress is leading in 20 out of 59 seats.
Tripura went to polls on February 16, Nagaland and Meghalaya on February 27. Exit polls predicted that the BJP will retain power in Tripura overcoming the challenge of the Congress-CPM alliance. NPF, NDPP and BJP alliance PDA is dominant in Nagaland. In Meghalaya, the NPP, which left the NDA and contested alone, will have an edge, but the exit polls are not predicting a majority for anyone. Exit poll results are not in favor of Congress in all three states.
The Congress will suffer a huge setback if the BJP under the leadership of Manik Saha, who broke the 25-year dominance of the CPM in 2018, succeeds again. In Tripura, the party adopted the Raipur Plenary's stance of a like-minded secular front against the BJP. If successful, it will give momentum to the opposition unity for preparations for the next Lok Sabha elections.
The performance of Tipra Motha party, which rejected the CPM-Congress alliance offer and contested alone, will also be crucial in Tripura. Exit poll results suggest that they may win up to 16 seats using tribal influence. This may also be a threat to the BJP. CPM-Congress and Trinamool parties are likely to support Tipra Motha if the BJP alone does not get an absolute majority. The election results are also crucial for Mamata Banerjee's Trinamool Congress to gain a foothold in Tripura.
The exit polls show that the Christian majority states of Nagaland and Meghalaya are not with the Congress this time.