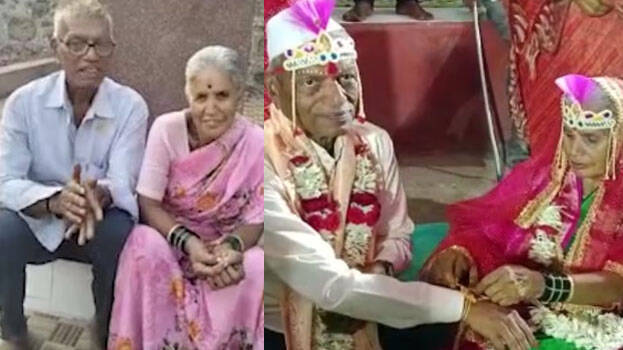 MUMBAI: Love can happen to anyone at any age. A couple has proved it once again. Their love story had gone viral on social media. The stars are Baburao Patil (76) and Anusaya Shinde (70), inmates of an old-age home in Kolhapur, Maharashtra.
Both of them were living in the old age home in Kolhapur for the past 2 years after their family disowned them. They have been living in the nursing home for the past two years. At first Baburao and Anusaya did not know each other much, but later they started talking to each other every day. The two got to know each other better and became good friends. Other inmates of the old age home also encouraged their friendship. Finally, their friendship turned into love, both of them decided to spend the rest of their lives together.
Babasaheb, another inmate of the old-age home, who is a priest, completed all the necessary legal procedures for their marriage. He is also the one who signed as a witness to the marriage. The wedding was in the presence of all the friends of the nursing home. Officials of the old age home also witnessed the ceremony. The video and pictures of their wedding are now going viral on social media.