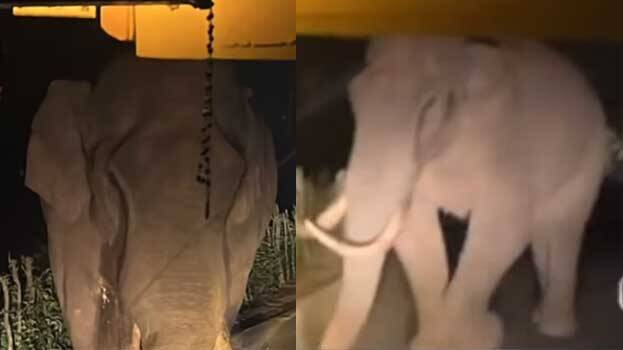 IDUKKI: Another wild elephant attack against KSRTC. A wild elephant named Padayappa attacked Palani-Thiruvananthapuram KSRTC superfast bus near Nemakkadu estate in Marayoor-Munnar road. The side mirror glass of the bus was damaged. This is the first time that a wild elephant attack has occurred in this area.
The incident happened on Saturday night. After seeing the wild elephant standing on the road, the bus stopped for a long time but Padayappa came towards the bus and damaged the window. He withdrew after a while. Meanwhile, the forest department informed that Padayappa has not gone to the forest and is still in the Nemakaddu area. But the forest department has confirmed that he is not in the residential area.
Padayappa was also spotted n Munnar's residential area last week as well. Padayappa arrived at Munnar Kannimala Estate, a plantation area, around eleven o'clock at night. He attacked on company quarters in the region. The windows of the buildings were damaged. Many crops have also been destroyed. After staying in the area for several hours, the elephant returned to the forest in the morning.