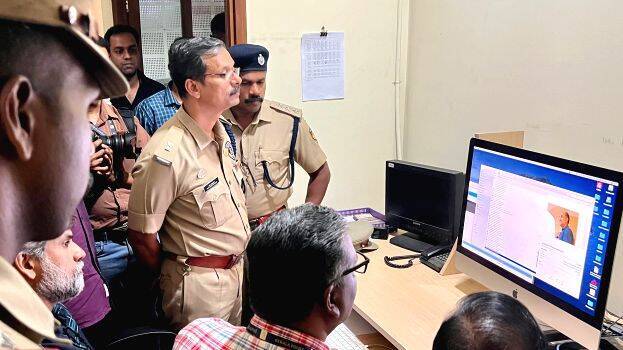 KOZHIKODE: The police and revenue department on Sunday conducted an inspection at the Kozhikode office of Asianet News on a complaint filed by PV Anwar MLA alleging that the channel had used a minor girl to spread fake news. The inspection, which started at 10:00 yesterday morning, lasted for four hours. The team checked the computers and documents and returned without finding anything unusual. Police said that they haven't seized anything from the office. Meanwhile, there was a widespread protest against the raid. Various political leaders also came out against the action.
The five media workers who were on duty were not allowed to go out during the inspection. Asianet North Regional Head Shahjahan Kaliyathu said that no one could go out and work because they were asked to testify.
The inspection was conducted by a team led by Additional Deputy Commissioner L Surendran, Crime Branch Assistant Commissioner V. Suresh and Land Revenue Tehsildar C Sreekumar. The inspection was carried out in the case registered by the police in Vellayil. Additional Deputy Commissioner said that only an official inspection was conducted based on the complaint.
Sign of Intolerance: Satheesan
Opposition leader VD Satheesan alleged that the police raid on the media organization was a sign of intolerance. "What is the difference between Narendra Modi who raided the BBC office using ED and Pinarayi who raided Asianet using the crime branch?" Satheesan asked.
Terrible form of fascism: Surendran
BJP state president K Surendran said that the raid was a terrible form of CPM fascism. "CPM is destroying media freedom in Kerala. Those who speak against Pinarayi are being hunted in Kerala. If there is an objection to the news, it should be responded to in a democratic manner," he said.
Raid illegal: Chennithala
Congress leader Ramesh Chennithala said the raid was illegal and a challenge to media freedom. "Entering the office without even a search warrant was a fascist act. It turns out that Modi and Pinarayi are acting similarly," he said.
Attempt to silence media: PMA Salam
PMA Salam, state general secretary of the Muslim League, said that the government is trying to silence the media that speak the truth by using influence.
Will cooperate with any investigation: Asianet News
Asianet News Executive Editor Sindhu Suryakumar said in a press statement that the channel is ready to coopearte with any kind of investigation. She also said that the act of barging into the office and demonstrating hooliganism before the commencement of the investigation is against democratic culture.