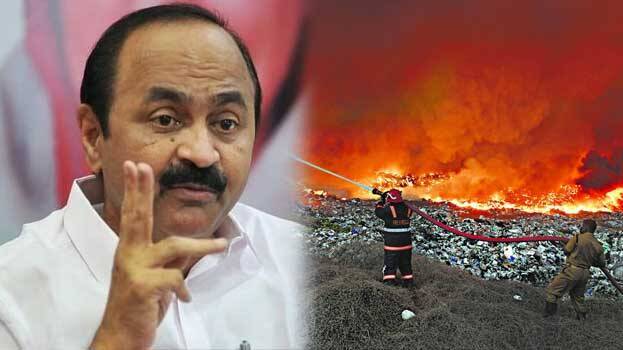 THIRUVANANTHAPURAM: The government and corporation have a dubious role in burning plastics in the state said opposition leader V D Satheesan. The leader's verbal tirade against the government came in wake of the Bramhapuram fire that still suffocates the natives of Kochi.
"The government has a good role in burning plastics in Kochi. Later they term that as an accident to divert the public attention. All the people involved in the Brahmapuram fire should be questioned. High swindling of money is behind the move and the government is involved" accused V D Satheesan.
"Those who took contracts for waste disposal in Brahmapuram are relatives of CPM workers. I am not revealing any names. The waste was scattered around. The biowaste was not composed and they deliberately put fire to the piles of plastic collected there. The contract renewal is nearing an end and it elicits no doubt if all the wastes are cleared with just a burn of a stick" Satheeshan said.
Congress wants an investigation headed by the High Court. The opposition leader also accused the minister of a lethargic attitude with not taking the issue in all its seriousness.