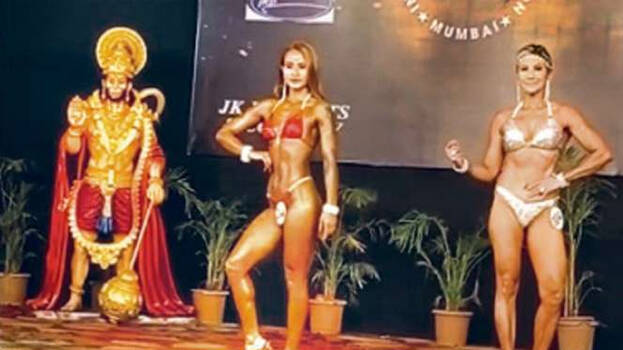 BHOPAL: A controversy erupted over women wearing bikinis and posing for photos in front of Lord Hanuman's idol at a bodybuilding competition in Ratlam in Madhya Pradesh, a BJP-ruling state. After the contest, Congress activists sprinkled 'Ganga water' and recited 'hanuman Chalisa' as part of the purification. 13th Mr. Junior Bodybuilding Competition was organized last Saturday and Sunday. The program was organized by the municipal council led by BJP.
The contestants posed for a photo in front of the Hanuman idol after the bodybuilding show ended. Congress protests alleging that they insulted Lord Hanuman. The protest was led by former mayor and Congress leader Paras Saklecha. Youth Congress leader Mayank Jat said that Lord Hanuman will punish those who were involved in this.
At the same time, the BJP countered that the Congress is protesting because it does not like women entering the sports field. The organizers of the event lodged a complaint with the police demanding action against the protestors.