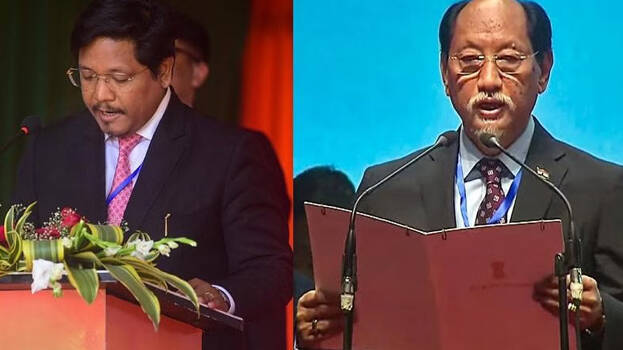 NEW DELHI: Cabinets in Meghalaya and Nagaland sworn in. Incumbent Chief Ministers Conrad Sangma of Meghalaya and Neiphiu Rio of Nagaland were sworn in at ceremonies held at the Raj Bhavans in Shillong and Kohima. The oath-taking ceremony was held in the presence of Prime Minister Narendra Modi, Amit Shah, and JP Nadda. The Prime Minister will also participate in the swearing-in ceremony of the Tripura government tomorrow.
Conrad Sangma was sworn in after securing the support of 45 in the 60-member assembly. The cabinet came to power with the support of a huge majority when the UDP, which was thought to be staking a claim to form the cabinet, announced its support. UDP has 11 MLAs. Conrad Sangma is securing the CM chair for the second time in a row.
Meanwhile, this is the fifth term for Neiphiu Rio as Chief Minister. The NDPP-BJP cabinet led by 72-year-old Neiphiu Rio has the distinction of having no opposition. With the NCP, the third largest party with seven members, also deciding to join the NDPP-BJP cabinet, Nagaland will effectively become a no-opposition assembly. Although there was no opposition assembly in 2015 and 2021, this is the first time that there is a no opposition assembly before the cabinet is sworn in.