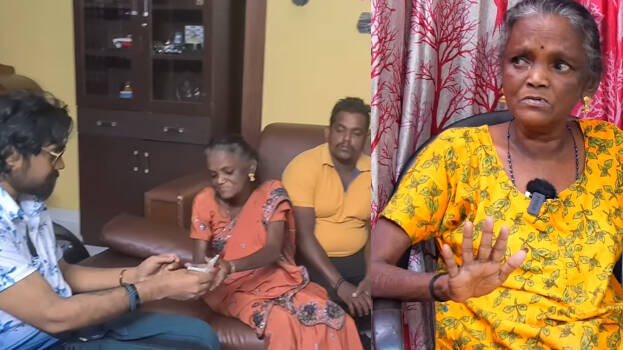 Actress Molly Kannamally had met actor Bala a few days ago. Bala had shared this video on Facebook. The actress had also shared her grief that her house is under the threat of confiscation. Bala had in between given a cheque to Molly and the amount was not divulged.
Soon after the incident, it was circulated on social media that Bala had given her a cheque of Rs 10 lakh. There were also criticisms that despite having healthy sons, they send their mother for work. The actress and her son have responded to it in an interview.

'I went to see Bala on my way to the hospital. I went to seek help from the actor after getting a confiscation notice. I spoke to Bala about it. He spoke happily and seeing me he told me that we should do many films together. When I was hospitalised, Bala gave my son Rs 12,000 first and then Rs 5000. When I went to meet him directly, he gave me a cheque of Rs 10,000.

He told me that the amount is to buy medicine and for my expenses. He asked me whether I want 5000 or 10,000. She immediately replied that whatever my son gives me will be accepted. He spoke with such good humour. What he has posted on social media is correct.

I told him about getting the confiscation notice and sought help. I don't know how these channels aired untrue things. He is in the hospital now. Otherwise, he would have replied to this. He is a man who helps a lot of people,' she said.

Many are saying that a cheque of Rs 10 lakh was given. Even if you don't help me, please don't hurt us. We don't have the finances to turn over such an amount suddenly. If we get the required time, we will pay,' said her son.