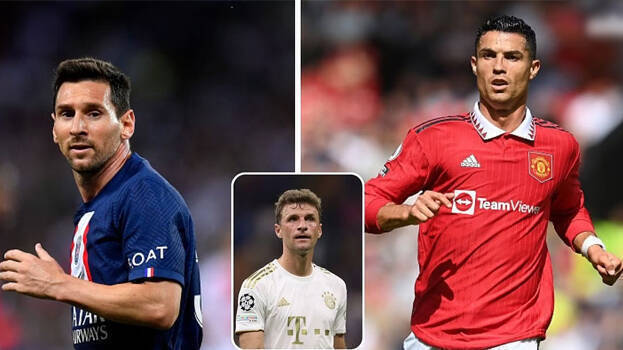 PARIS: Bayern Munich legend Thomas Müller has unveiled his take on the long-stuck conundrum over the undisputed one on the football pitch. Müller was meeting the press after Bayern victory over PSG in the champions league. He made a cheeky dig at Messi and said Ronaldo gave a much harder time for Bayern Munich over the years.
"When it comes to results, we always do well against Lionel Messi. At club level, it was always Cristiano Ronaldo at Real Madrid who was a problem for us.", Muller said.
Müller's discernment was based on the Portugal icon's time at Santiago Bernabeu. He said Ronaldo was a problem at Madrid and the results of that time saw Real Madrid ousting Bayern most of the time from the UEFA champions league. One celebrated semi-final match also saw the Madrid team beating the Bayern side with Cristiano Ronaldo taking a hat trick to his pockets amid officiating controversies. The stats also ring true to Müller's claim as Barcelona fell short of securing the win against Bayern most of the time.
Müller also said he has the greatest respect for Messi and praised his legendary performance at the Qatar World Cup. "...But I have the greatest respect for Messi's World Cup performance. Messi's individual performance at the World Cup was amazing. He carried the whole squad. It's not so easy to play at a team like PSG. It's difficult to get a really good team balance.", he added.
Amidst all the bragging talks, Messi has had a glittering run through the year with the little wizard taking Argentina to world cup glory in Qatar. The Ballon d'Or will be announced soon and as far as the trophies count, Lionel Messi is far ahead by a thousand miles and a half.