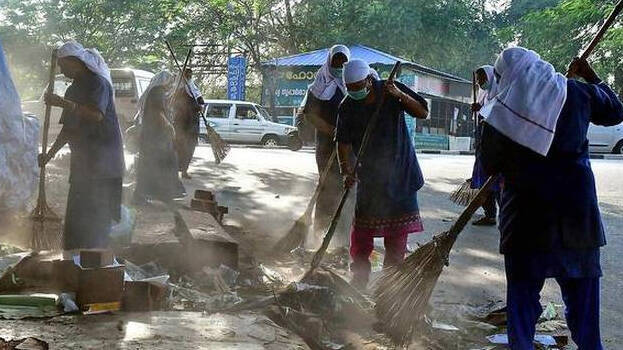 THIRUVANANTHAPURAM: The corporation removed about 246 tonnes of garbage from the city till Thursday in connection with Attukal Pongala. This is the total amount of waste including firewood, plastic and food items left by the devotees. The plastic waste was disposed of at the KSRTC yard at Enchakal and at a private site at Karamana.
The municipal corporation informed that the garbage removal was completed in a day and a half long cleaning. But on Thursday morning, non-removal of red bricks from the University, Palayam areas caused inconvenience to the commuters. The non-removal of red bricks inside the university college led to protests by students and authorities. This was removed on Thursday night.
35 loads of red bricks collected
The municipal corporation collected 32 loads of bricks left by the devotees after Pongala and it was brought to Putharikandam ground yesterday. Mayor Arya Rajendran's statement that action will be taken if anyone else collects bricks used for Pongal was controversial. The stones will be utilized for the LIFE housing project of the corporation. Priority list applications are invited for this. Priority is given to the extremely poor, dependent beneficiaries, widows, differently abled, terminally ill and bedridden. Those who have been allotted a house in LIFE should apply before April 10 with a copy of the ration card.
Red bricks allegedly destroyed
After Pongala, there were complaints that some people deliberately destroyed the bricks. The bricks were found to be cut in two in Chala and Fort wards. The workers who came to collect the stones reported this to the corporation. Then they were instructed to collect the bricks cut in half. The was half a load of such bricks.