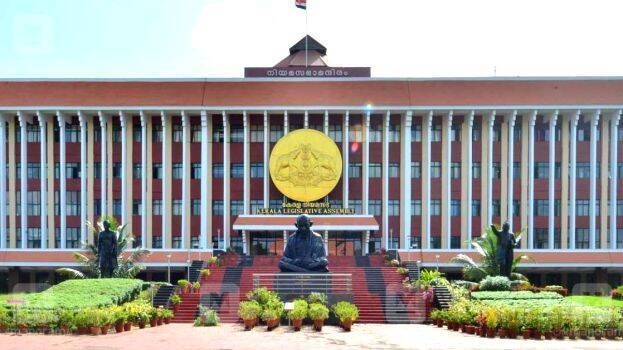 VD Satheesan says that the garbage pile was burnt with petrol
THIRUVANANTHAPURAM: Yesterday, the Legislative Assembly came to a standstill due to the uproar raised by the opposition alleging that Kochi was being suffocated by the poisonous smoke rising from Brahmapuram for the past twelve days. The opposition boycotted the parliamentary proceedings demanding a CBI investigation on the looting of crores under the guise of waste management.
The opposition came to the center with a black banner and placards that read 'Don't kill Kochi' and shouted slogans. The banner was raised and the speaker's face was covered. The speaker quickly completed the calls for attention and submissions and moved on to the discussion. The opposition boycotted the assembly after protesting in the center for 25 minutes
Congress's TJ Vinod, who moved the emergency motion notice, said that the poisoning is similar to the endosulfan disaster and the government moved only after the High Court intervened to save people's lives. Leader of the Opposition VD Satheesan alleged that after purchasing 22 crores in advance, the contractors did nothing and burnt the garbage dump with petrol. Those who gave the opportunity for corruption to relatives and friends should be investigated. Minister MB Rajesh speaks like a spokesperson for contractors. The company could not even meet the condition of completing work worth ten crores. The German ambassador came to Bengaluru and filed a case against the German company that was involved in embezzling 2.5 million euros. Despite the huge loot, there is no investigation. Satheesan said that even after 12 days, there is no preliminary report.
Only 859 people were affected: Minister Rajesh
Minister MB Rajesh said that out of eight lakh people in Kochi, only 859 people were affected by the fire and only 17 people needed hospitalization. This is not the first time garbage has caught fire. Mumbai and America also faced this. In the United States last year, there were 8,000 fires in landfills. The situation in Brahmapuram is fully under control. The company is located in Kochi and handles waste treatment in two dozen cities in 12 states. The central government's GAIL has a stake in the company. The contract for biomining was awarded through a transparent process. Actions were taken on a war footing to fight the fire. Minister Rajesh also said that during an online discussion with the New York City Fire Deputy Chief, he was satisfied with the methods adopted to put out the fire.