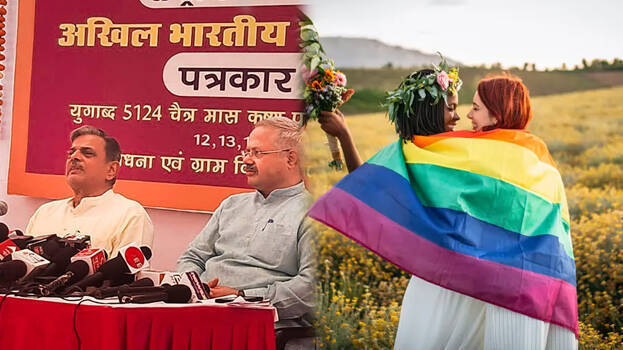 NEW DELHI: The RSS said that they agree with the stand taken by the central government in the Supreme Court on same-sex marriage. "Marriages can only take place between opposite genders. Marriage is a culture and not just a celebration.", said RSS general secretary Dattatreya Hosabale.
"Marriage is not merely a union of two people. It is for the benefit of the family and society at large. It is not for physical and sexual enjoyment. That is the Hindu culture. I have said this earlier as well.", said Hosabale on the final day of Akhil Bharatiya Pratinidhi Sabha meeting.
The central government argued in the Supreme Court that same-sex marriage is against the concepts of marriage and family in India. Legalizing same-sex marriages would lead to major complications. Physical intercourse between persons of the same gender and living together as partners does not fit the concept of Indian family.
The Centre had clarified in the Supreme Court that same-sex marriage cannot be compared to the concept of family that is a husband, a wife and their children. In an affidavit filed in the Supreme Court, the Centre has stated that even though same-sex relations are not criminal offences, marriages cannot be legalized.