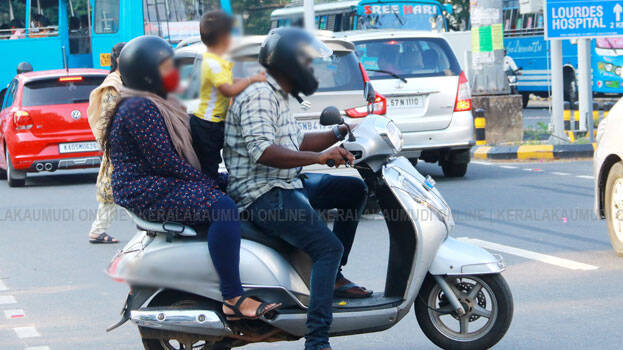 The following instructions are for those who always go for a ride with a second person behind them.
1. You should always have the thought that it is your dearest father, mother, siblings, children, wife, husband, or friends, one of them is behind you.
2. You must be someone who is experienced with riding with someone sitting in the back.
3. You must be sure that the vehicle can be properly controlled with someone sitting behind you.
4. Apart from yourself, the person sitting behind also should ensure that a BIS-stamped helmet is properly worn.
5. Make sure your vehicle has the correct footrest.
6. Ensure that there is a saree guard, offering protection till half of the rear wheel.
7. Make sure to sit firmly with feet on both sides on the footrest. (Don't allow sitting on one side under any circumstances)
8. Directly hold the hand grip or body so that it does not strain you.
9. Ask for loosely flowing clothes like sarees, and shawls to be tucked and tied, otherwise, they may get caught in the wheel sprocket and cause accidents.
10. If they are small children, tie them to you using a safety belt (Safety Harness).
11. Do not ride with more than one person sitting behind you under any circumstances.
12. Be careful to double-ride with a speed slightly less than the legally permitted speed (safe speed).
13. Take maximum care and slow down on places like a hump and ripple strip.
14. Speed ​​should not exceed 40 kmph if a child below four years of age is on the vehicle.