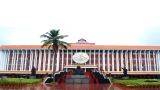 Sunny Joseph as 'Home Minister'
THIRUVANANTHAPURAM: Yesterday, the Legislative Assembly witnessed the opposition sitting in the middle, dividing into two sides and holding a parallel session. The Speaker of the House, the Chief Minister, the Leader of the Opposition, and the Home Minister were all imagined and the parallel assembly was activated. While the members of the ruling party were speaking, the opposition members were speaking in a parallel assembly in a higher voice.
After Roji M John presented the urgent motion notice which was rejected by the Speaker, the discussion started on the same in the parallel assembly. Opposition members presented all the failures of the government in Brahmapuram waste management and the corruption of crores in the parallel assembly. The 'Home Minister' Sunny Joseph, who came to justify himself, was embarrassed by the opposition members of the parallel assembly by hollering and noises.

The counter-speech in the parallel assembly was when the members of the ruling party were giving a speech during the fund request discussion. The speech of the opposition members in the parallel assembly without a microphone was louder than the speech of the ruling party members through the microphone. Often the ruling and opposition members ran head to head loudly, argued, and shouted.
Mammootty was sent to Wayanad; Lal, don't come here soon
Mammootty was shifted to Wayanad to avoid the smoke in Brahmapuram... Mohanlal, who is in North India for shooting, was instructed to stay there... Prominent businessman MA Yusuff Ali should not come to Kochi for two months...

These remarks mocking the government were made in the parallel assembly of the opposition. Congress member Roji M John moved an urgent motion in the parallel assembly which was denied permission by the Speaker. Sunny Joseph, who replied as 'Home Minister', mocked the government by referring to Mammootty, Mohanlal, and Yusuff Ali.