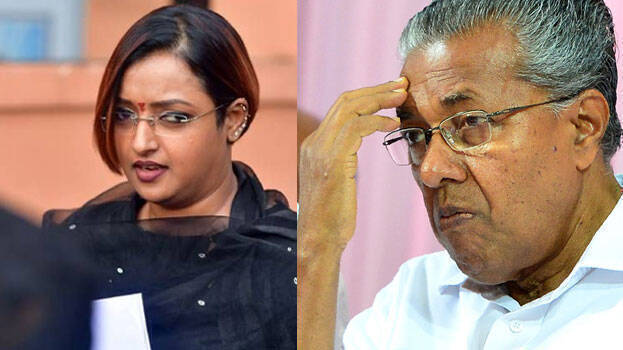 KOCHI: Swapna Suresh has raised allegations against the Chief Minister in the ongoing controversy related to the Brahmapuram waste treatment plant. In a post on Facebook, Swapna alleged that Sivashankar, the former Principal Secretary to the Chief Minister, was involved in the contract with Zonta company, the contractor of the waste plant and that it is for this reason that the Chief Minister is keeping silent on the matter.
"12 days of silence by the Hon'ble CM, thanks to the power above that He finally decided to utter......
Mobilization advance given to the contract company request the Hon'ble CM to get it back and distribute it among the ladies and gentlemen, the common public who are coming forward to extinguish the fire at BRAMHAPURAM.
Hon'ble CM I know very personally why u didn't react as always at the Kerala Legislative Assemly because you did not get the note to read on time yeaaah maybe because the right hand is at the hospital " Sivasankar Sir" you should have managed otherwise. Just because he was also involved in this deal you should not wait like this......
As a citizen of India please take my suggestion , We the individuals irrespective of age and gender will manage the fire at brahmapuram risking our lives to save the rest but , provided you take the advance c........n back and distribute it to the people saving Brahmapuram and the people of Kochi.
You must be wondering why am I talking on this matter because , I too lived in Kochi and had to escape to Bengaluru because of you but not dead yet.
Ladies & Gentlemen I will join all of you to help the people of Kochi inspite of all the threats and danger to my life.
WHAT IS MOBILIZATION ADVANCE , DEAR BORTHERS AND SISTERS LET US JOIN HANDS AND THINK ......!", Swapna wrote on Facebook.