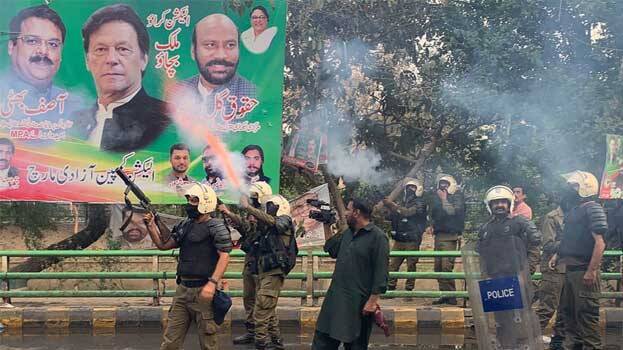 ISLAMABAD: Widespread protests broke out in Pakistan after police arrived to arrest former Prime Minister Imran Khan. The Election Commission of Pakistan had found that Imran Khan had sold the gifts he received as Prime Minister to foreign dignitaries. The PTI activists and Imran supporters have detained the police in front of Imran's residence in Lahore.
Last week, the anti-corruption court found Imran Khan guilty in the Toshakana case. An arrest warrant was issued after Imran failed to appear despite receiving summons. Later, when the police arrived, around a thousand people had lined up in front of Imran's house blocking the police from entering inside.
The police had blocked all the roads leading to Imran's house with containers before arriving to arrest him. Many policemen were stationed in the area. Pakistani police used water cannons and tear gas to disperse thousands of supporters who gathered outside Imran's house to prevent his arrest. Meanwhile, a PTI supporter was killed in a clash with the police. This is the second time the police have come to arrest Imran.
Meanwhile, Imran Khan released a video message while there was a clash between the police and his supporters outside the house. "The police have come to arrest me. They think that after I am arrested the nation will fall asleep. You have to prove them wrong.", Imran said in the video. But the police said that they will not return without arresting Imran Khan.