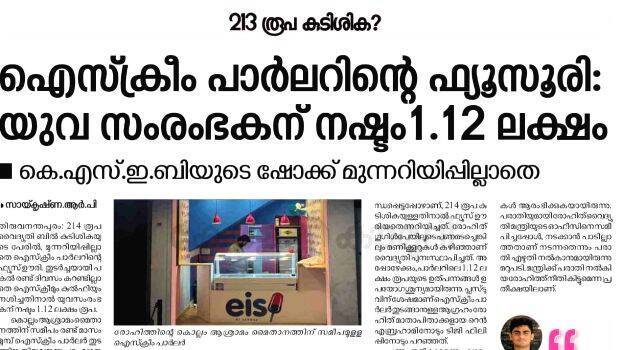 Intervention followed by Kerala Kaumudi news
THIRUVANANTHAPURAM: Minister P Rajeev intervened in the case of pulling the fuse of an 18-year-old young entrepreneur's ice cream parlor without warning due to non-existent electricity bill arrears of Rs.214. The Minister's immediate intervention was after the Kerala Kaumudi news. Kerala Kaumudi had reported the KSEB action against the ice cream parlor near Kollam Ashram Maidan that belongs to Rohit Abraham, a native of Thiruvananthapuram's Vazhuthacaud, and published an editorial the other day. The minister called Rohit on the phone at around 3 pm yesterday. After asking for the details, the minister said that the matter is serious and the electricity department authorities will be asked to take serious action.
Following the news of Kerala Kaumudi, many people called Rohit over the phone and expressed their support. Rohit said that he was happy with the minister's intervention and that no businessman should have such a bad experience.
The action of KSEB had caused a lot of embarrassment to the industries department which was going ahead with various projects including 'one lakh enterprises in one year'. At the same time, KSEB replied that the loss of lakhs of rupees was due to Rohit's delay in payment. Officials say that Rohit has been warned to pay the money earlier. Rohit and the building owner reiterated that they had not received the warning. No action has been taken on Rohih's complaint to the Power Minister.