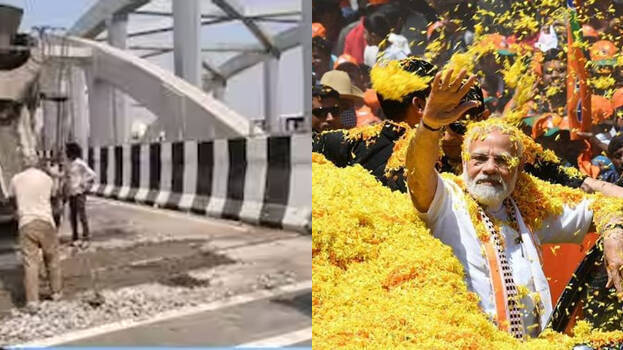 MYSURU: The protests are intensifying as potholes were developed on the Bengaluru-Mysuru Expressway recenlty inaugurated by Prime Minister Narendra Modi. As the assembly elections are around the corner, the Congress has decided to use this as a political weapon against the BJP.
The potholes were formed near the Bidadi bypass on the Bengaluru-Ramanagara border. This section is blocked with barricades. Due to this, heavy traffic is experienced in the area. Reports say that the repair works are ongoing to cover up the potholes.
The Congress had already come out with protest alleging that the inauguration was done before the completion of the work. Toll collection has started on the expressway since yesterday. Locals and Congress workers raised a strong protest against this.
Karnataka's public transport company KSRTC (Karnataka State Road Transport Corporation) has increased the ticket prices on the day the National Highway Authority of India has given permission to collect toll. Ticket charge has been hiked up to Rs 20 per passenger for traveling on this route.
An additional fare of Rs 15 will be charged on Sarige buses, Rs 18 on Rajahamsa buses and Rs 20 on multi-axle buses. KSRTC has informed that such additional fare will be charged only from the passengers traveling in buses on expressway.
The new expressway at Karnataka has two toll plazas. Buses have to pay Rs 460 as one-way toll. Rs 690 should be paid if return journey is within 24 hours. Rs 15,325 for a monthly bus pass.