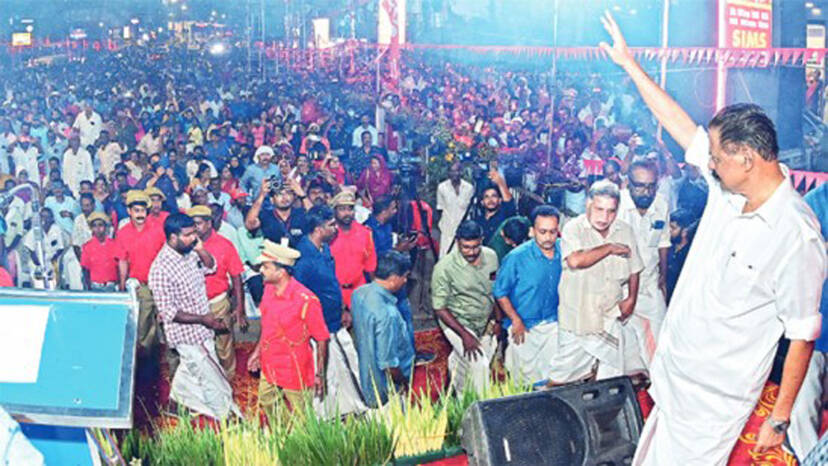 CPM State Secretary MV Govindan led the Janakeeya Prathirodha Jatha with a resounding success due to the massive participation and variety of issues presented. It should be noted that at no stage of the march did the leader MV Govindan attempt to boost his own image. Throughout the march, he tried to inform the people and party members of the current national and state issues, from the perspective of communist doctrines. Nowhere did he speak in the pride of power or with a tone of despotism. It was a natural reaction to raise his voice a little at the mic operator. Then when he explained the matter to the people, he used the word friend to refer to the mic operator. Some media and social media tried to portray MV Govindan as a megalomaniac arrogant leader like some others because of this small incident, but people did not accept it.
People know from their experience that MV Govindan is a leader who follows the old communist tradition and is untainted in personal and public life. So the march was also used to prove clearly that he is not a leader who can be easily reconciled by putting on fake stamps. He also showed moral courage to send a defamation notice of Rs 1 crore against the person who dragged him into unnecessary controversy during the march. He did this to uphold the prestige of the party and not of the individual. For that too, some tried to criticize him rather than praise him. Many have accused him of doing so to knock down some others in the party. The march started in the most adverse situation where the LDF government ruling the state, imposed a Rs 2 fuel cess. But when the march ended, the Janakeeya Prathirodha Jatha changed to a level that gave new hope to CPM, the largest party in the state, and other neutral sections of the people here.
Apart from exposing the BJP-ruled central government's misguided economic approach to Kerala, he focused more on underlining the importance people attach to development in his speeches at the reception meetings. He clarified that the people were ready to take the LDF government to power for the second time because of progress in development. No state can complete development processes without borrowing. It should be judged from the responses that the people understood the explanation that the center is trying to prevent it. He was also able to highlight the humanitarian aspect of the Left government by pointing out the adoption of 64000 landless families. In any case, it can be assumed that this march caused him to get to know the pulses of the people. In the background of this, it can be expected that the party will give suggestions regarding the policy changes to be taken by the leftist government in the coming years.