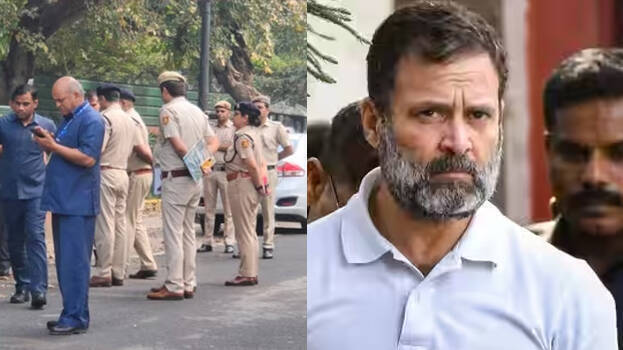 NEW DELHI: Dramatic scenes were witnessed when the Delhi Police led by special police commissioner Sagar Preet Hooda arrived at Rahul Gandhi's residence seeking more information on his remarks at the concluding session of Bharat Jodo Yatra. Rahul did not see them and also did not allow them to enter the house. The police team returned after issuing a notice. Hundreds of Congress workers arrived shouting slogans after knowing that the police had arrived at Rahul's residence. The police later removed them.
'We came here to talk to Rahul. Rahul in his statement in Srinagar on January 30, said that he had met many women during his journey and they had told him that they were sexually abused. We are seeking details from him to get justice for the victims,' said Hooda.
The Delhi Police had on March 16, issued a notice to Rahul Gandhi asking him to provide more information on his remarks. However, he did not reply to it. Following that, the police reached his house. However, the congress said the notice has no legal validity.

In the meanwhile, the Congress leaders criticised the act. The party's responded that this was another move by the Delhi Police to harm Rahul. Congress spokesperson Pawan Khera was stopped by the police when he reached Rahul's house.