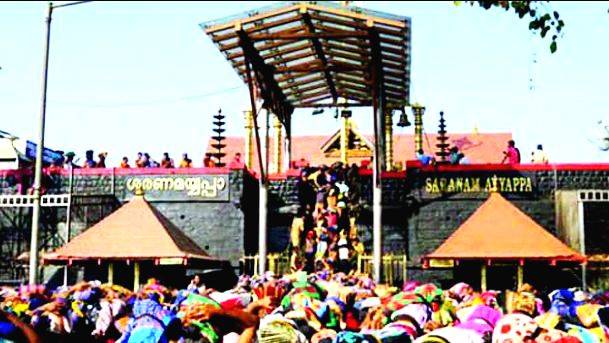 SANNIDHANAM: The police have imposed several control measures at Sabarimala and nearby areas as the temple gets opened for chithira aatta visesha poojas on Monday. The police have clarified that the media will not be allowed to enter Pampa or Sannidhanam on Sunday. Some journalists were blocked at Ilavunkal. The police have taken the stand that the journalists will be allowed to enter Pampa and Sannidhanam only on Monday. It was also decided to deploy women police officers at Sannidhanam. Women police officers aged above 50 who are in the CI, SI ranks will be deployed at Sannidhanam.
All of them have reached Pampa on Saturday. If necessary, they will be deployed at Sannidhanam on Sunday evening. Devotees will be allowed to enter the temple on Monday afternoon. The police are completely prepared for facing a clash at Sabarimala.
There is a ban for travelling to Sabarimala following the declaration of 144. Nobody without identity proofs will not be allowed to pass through the check post at Nilakkal and Pampa. Intelligence report states that strong protests will be staged at Sabarimala over the women entry issue. Devotees will be under the observation of police when they cross Nilakkal. All the vehicles will be checked at check posts. 2300 policemen will be deployed at Sabarimala under the leadership of ADGP S Anandakrishnan and Anil Kanth. More than 100 women police officers will also be deployed at Sabarimala. 500 policemen will be kept at Nilakkal for emergency deployment.
The forest path between Pampa and Sannidhanam will be under control of the police. Commandos will also be present with them. High officials will camp there since Sunday afternoon. Camera surveillance is also arranged.
The temple will get opened for Chithira Aatta Visesham on Monday at 5 pm. Tantri Kandararu Rajeevaru and high priest Unnikrishnan Namboothiri will jointly light the lamp at the sanctum sanctorum. Nirmalyam and Abhishekam will be performed on Tuesday at 5 am. The temple will get closed at 10 pm after Harivarasanam. The temple will again be opened on November 16, which marks the start of the pilgrimage season.