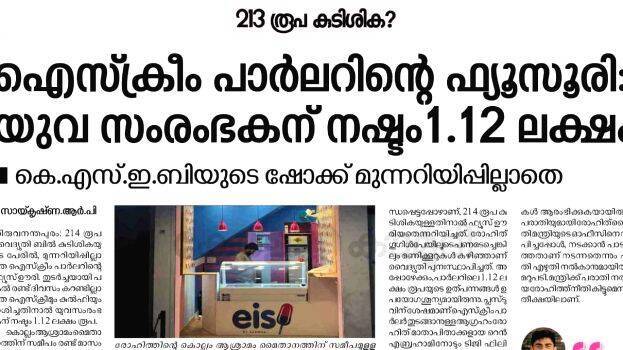 THIRUVANANTHAPURAM: The high-level meeting presided over by Minister K Krishnankutty directed that disconnection of electricity connection due to non-payment of bill amount on time should be restricted to 1 pm only on working days and concerned officials should ensure that the information is conveyed to the consumer. The decision was based on Kerala Kaumudi's reports and editorials about the disconnection of the power supply to the ice cream parlour started by young entrepreneur Rohit Abraham near the Ashramam ground in Kollam without warning. KSEB officials explained that the SMS was sent to the mobile phone of Ansari, who ran the shop at the building before Rohit started the ice cream parlour.
It has been decided to increase the number of SMS and email messages reminding consumers to pay the bill in order to avoid disconnection of the power supply due to non-payment of bills in industries and households in the state. Messages will also be delivered through the WhatsApp chatbot system. If the power supply is disconnected, the information will be conveyed to the consumer through the registered phone number. The meeting also directed that the electricity connection should be restored as soon as the dues are paid.
KSEB Chairman Rajan Khobragade and other top officials attended the meeting convened by the Electricity Minister at the Secretariat on Tuesday.