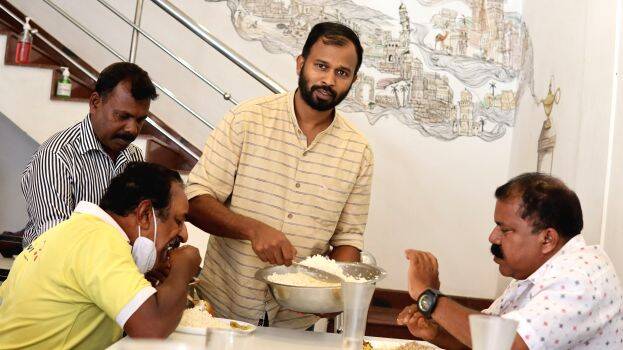 Dream of Hunger-free-Kerala
For those who have cash, they can put it in the box at the counter
THRISSUR: Do not go hungry thinking that you have no money after reaching Thrissur. Just go to Hotel Winborn Life Care Food in Kokkala. Free full breakfast, lunch, and dinner. Those who are able to pay can deposit in the cash box at the counter. It has a QR code and bank account number. But they don't insist on money. No entry and no food if you come drunk.
Niabuddin, a native of Kechery-Aloor; Nitin, a native of Pavaratty; and Jasim, a native of Malappuram; who are expatriates, have embarked on such a philanthropic mission with the dream of a hunger-free Kerala. The hotel is under the Winborne Public Trust which they started in 2018. All three are friends. Niabuddin, who was a post office worker in Dubai, started his own shop. The other two are managers in supermarkets.
Three of them started the first free food hall at Palakkad Kotta Maithanam last year with an investment of around two lakh rupees. With about a thousand people coming to eat there a day, many people donated money and goods. The one in Thrissur started on Monday. About 300 people came to eat in two days.
Being a free eatery, the shopkeeper charges only ten thousand rupees as rent. The actual rent here is more than thirty thousand rupees. There are four people including women for cooking. Their salaries and other expenses are about Rs.1 lakh per month. Linson Antony, Isaac, Sasidharan, Suresh, Sreena Prathapan, etc. come to help without remuneration.
Timing and menu:
Breakfast from 6 am: Uppumaav, idli, dosa
12 noon: Rice, Sambar, achar, upperi
Up to eleven at night: Rice or porridge
To ensure food for all, an app will also be started. Hotels that are willing to provide food at moderate and half price will be added to this. If you can't find food anywhere, register on the app and enter the pin code, then you will get information about the nearby hotels. You can eat in those hotels for free if you show the notification number that comes on your mobile. That money will be paid by the trust.
The free food shop started as a charity mission. Many people were given free food even during the covid period. The desire is to start it in all districts. The goal is a hunger-free Kerala.
- Niabuddin