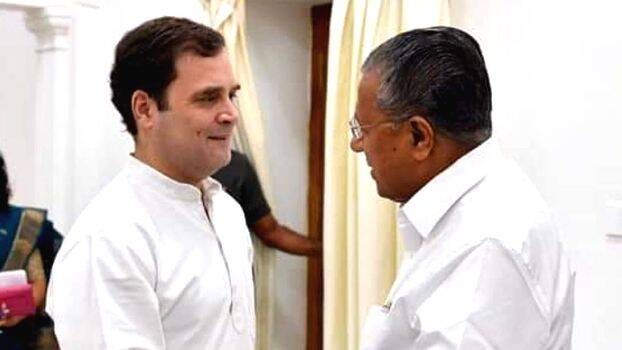 THIRUVANANTHAPURAM: CPM and CPI are making moves cautiously to make sure that the public sentiment against the hasty disqualification of Rahul Gandhi from the post of MP does not benefit Congress alone.
After the Lok Sabha Secretariat issued an order disqualifying Rahul on Friday, Chief Minister Pinarayi Vijayan came out criticizing the action against Rahul. With other CPM ministers and leaders raising criticism against the Centre, the CPI under the leadership of state secretary Kanam Rajendran also lashed out at the Centre.
Rahul's candidature in Wayanad had created a wave in favor of the UDF in the last Lok Sabha elections. Now, the LDF believes that the sympathy over the disqualification will give Congress an upper hand. It is in this context that the Left leaders came out together to criticize the BJP. A wariness to consolidate influence among religious minorities is evident in left interventions. As part of this, the Left leaders are also alleging that Congress leaders are not mentioning the BJP by name in their responses.
Sensing danger, opposition leader VD Satheesan has retorted that the incident where Congress workers protesting against the Modi regime were thrashed by Kerala police shows the dual agenda of the CPM and the Chief Minister. Satheesan alleged that supporting Rahul Gandhi on one side and thrashing protesters on the other side was part of the agreement made by the CPM with the BJP to escape from the cases.
Through the Rahul issue, Congress is aiming to win back the minority support it lost in the last assembly elections. It is planning to take the field through extensive campaigning against the action against Rahul. Through this, they are expecting similar progress as in 2019 in the Lok Sabha elections to be held next year.