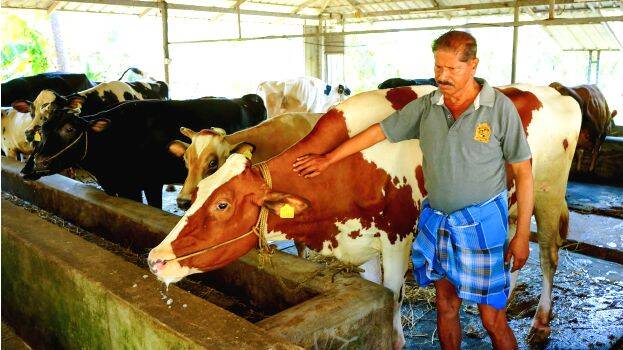 KASARGOD: Diary farmers are depleting in numbers in Kerala. They have deemed this niche struggling and are on the move to try new fields to make profits. Albeit such a crisis looming in Kerala, one retired SI is purchasing bovines and is scripting new heights in this domain. P P Narayanan near Thadiyankovval ended his service in 2013 to kickstart a new success story. He now monthly earns Rs 2 lakhs. Even after the spending, a large Rs 70000 remains intact in his pockets.
He is not a novice in the field but has the experience of maintaining a banana farm and rubber nursery before craning his neck deep into dairy farming. He followed the MSDP plan from the government and developed a farm to purchase 10 cows. In the 50-cent plot, Narayanan purchased 5 pregnant cows and another five milch cows. Now the bovine count has increased to 17. The breeds are normally of jersey and from HF groups.
This year, wet another glory knocked doors as Narayanan was selected as the Milma director. His farm daily collects more than 150 liters of milk. Apart from this, cow waste is also being sold by Narayan for Rs 30,000 a month. The process is made easy through the farm department in Kerala.