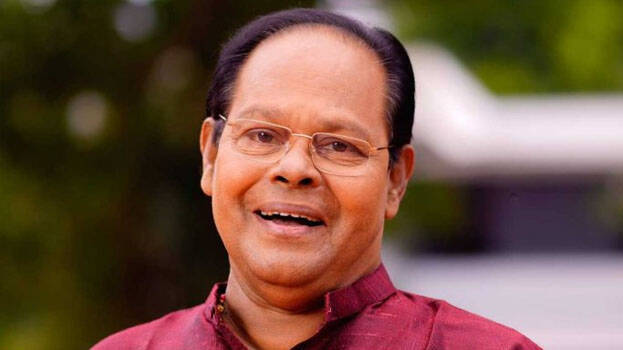 KOCHI: Veteran actor and former MP Innocent (75) passed away at 10.30 pm on Sunday while undergoing treatment for cancer at Lakeshore Hospital in Kochi. He was admitted to the hospital two weeks ago after he suffered physical discomfort due to cancer. He leaves behind a rich legacy for the posterity to cherish.
Apart from being an actor and an MP, Innocent was also a producer and writer. Innocent is an actor who came to the cinema as a filmmaker and later gained attention as a comedian and character actor. Innocent entered the film industry in 1972 with the film 'Nrithasala' directed by K Mohan, a native of Irinjalakuda.
Innocent had also started Shatru Combines, a film production company along with David Katchapilly. The films released under this banner are Ilakangal, Vida Parayum Munpe, Ormmakkayi, Lekhayude Orum Maranam Oru Flash Back and Oru Katha Oru Nunakatha.
The character of milkman Devsikutty in K Mohan's film 'Ilakangal ' was the first to be noticed. Innocent won the Madras Film Fans Best Comedian Award for that film. Later, he became a favorite of Malayalees as a comedian and a character actor. He has been a part of many hit films and is remembered for his performances in films like Ramjirao Speaking, Doctor Pashupathi, Keli, Mannar Mathai Speaking, Devasuram, Godfather, Manichitrathazhu, Azhakeeya Ravanan, Ravana Prabhu, Pappi Appacha, Pattanapravesham, Veendum Chila Veettukaryangal, etc. Apart from Malayalam, he has also acted in Tamil, Kannada, Hindi and English films.
Innocent was a person who bravely fought cancer. Innocent was diagnosed with throat cancer in 2013. He had penned a book titled 'Cancer Wardile Chiri' which is about the disease. He was recovering after treatment including chemotherapy.
In the Lok Sabha elections held in May 2014, he contested from the Chalakudy constituency with the support of the LDF. He had once stated that when he became an MP, he did not try to get four votes for the party, instead set up cancer treatment centres in five places. Later in 2019, he contested from Chalakudy Lok Sabha constituency but was defeated. He also worked for 17 years as the president of 'AMMA', an Association of Malayalam Movie Artistes. Innocent had acted in more than 750 films and won several film awards. In 1981, he won an award as a producer for the film Vida Parayum Munpe. In 1989, he won the best supporting actor award for the film Mazhavilkawadi. He won the state film critics award for best actor in 2009 for Patham Nilayile Theevandi, Asianet Film Awards several times, Filmfare award for best supporting actor in 2004, Dubai Annual Malayalam Cinema Award in 2008, Asianet Lifetime Achievement Award in 2013, Vanitha Lifetime Achievement Award in 2013 etc.
The actor was born on February 28, 1948 as the third son of Vareed Thekkethala and Margaret in Irinjalakuda. He had his primary education at Little Flower Convent Higher Secondary School, and Don Bosco Higher Secondary School. He discontinued his studies in the eighth standard.
He leaves behind his wife Alice and son Sonnet. Innocent has authored five books Including Cancer Wardile Chiri. His writings include Njan Innocent, Irijanalakudakku Chuttum, Mazhakannady and Jeevacharithramaya Chirikku Pinnil. The book Irijanalakudakku Chuttum was awarded the Sahitya Akademi award in 2020.
He also played notable roles in last year's films Makal and Kaduva. He last acted in Fahadh Faasil's Pachuvum Adbuthavilakkum.
Innocent's body will be kept for public viewing on Monday at the Rajiv Gandhi Indoor Stadium in Kadavanthra, Ernakulam from 8 am to 11 am and at the Iringalakuda Municipal Town Hall from 1 pm to 3.30 pm and then at his residence. Funeral services will be held at St. Thomas Cathedral Church, Iringalakuda at 10 am on Tuesday.