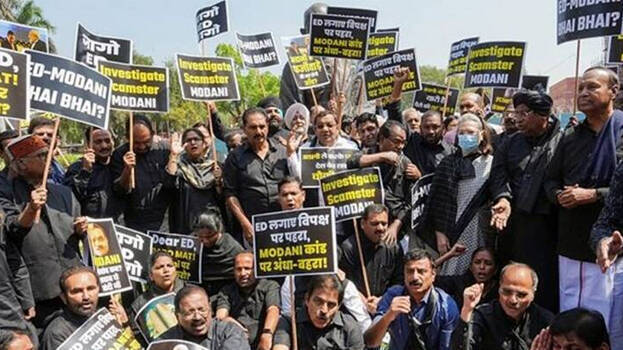 NEW DELHI: The opposition staged protests in both houses of Parliament against the disqualification of Congress leader Rahul Gandhi and seeking a joint parliamentary panel probe on Adani issue. Following the protests, the Lok Sabha was suspended till 4 pm and Rajya Sabha till 2. The opposition parties later protested with placards before the Gandhi Statue in the Parliament.
As soon as the Lok Sabha met in the morning, the Congress MPs shouted slogans and protested. MPs Hibi Eden and T N Prathapan tore the order disqualifying Rahul towards the Speaker. Speaker Om Birla adjourned the house till 4 pm following the commotion. The opposition members in the house had demanded a joint parliamentary committee probe into the Adani issue from March 13 onwards.

The Rajya Sabha was also disrupted on the Adani issue. Opposition members shouted slogans against Modi and Adani. Then Speaker Jagdeep Dhankar adjourned the House till 2 pm.