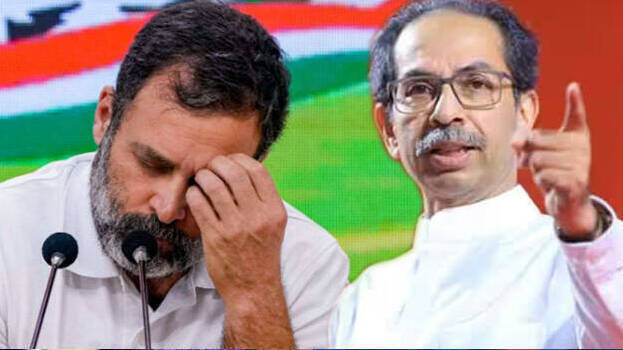 NEW DELHI: Congress has started works to pacify an irate leadership of Shivsena for Rahul Gandhi's Savarkar jibe. NCP and congress have made approaches at Shivsena and said it is Modi their ultimate enemy but not Savarkar. It is being said that Rahul Gandhi made a phone call conversation with Udhav Thackeray to break the ice between the two for the former's Savarkar comment.
Savarkar is a revered and godlike figure all over the Maratha belt. Congress president Mallikarjun Kharge recently called for an opposition meeting to discuss strategy but surprisingly Shivsena opted out of it. The maha aghadi government formed to fight BJP is seeing cracks with congresses' tentative approach to Savarkar. Rahul Gandhi and congress leadership minding the Maharashtra elections to be held within two years have made appeasing techniques to Matosree.
Meanwhile, NCP supremo Sharad Pawar also gave his support to Udhav Thackery. He said Savarkar was not part of RSS but it is Modi that the alliance should fight against. The losing grip kind of situation has forced the congress leader to eat his words and move with a mollifying pact towards Shivsena. Saamna, the Shivsena mouthpiece also criticized Rahul Gandhi for his insult on Savarkar.