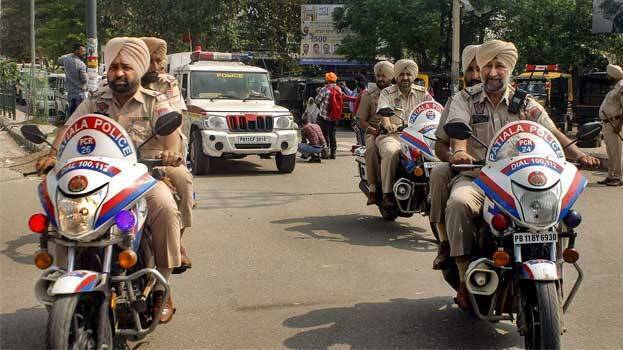 CHANDIGARH: The Punjab Police has beefed up security at Takht Damdama Sahib after reports surfaced that Khalistani leader and 'Waris Punjab De' chief Amritpal Singh might surrender. Takht Damdama Sahib is located in Talwandi Sabo constitency in Bathinda District of Punjab. Heavy police force has been deployed in Talwandi Sabo.
Guru Gobind Singh prepared a complete edition of the Sikh scriptures titled 'Sri Guru Granth Sahib' in 1705 from here. Takt Damdama Sahib is one of the five takhts in the country. Takhts are also considered the temporal authority of Sikhism.
Giani Harpreet Singh, head of Akal Takht had arrived in Takht Damdama Sahib yesterday. Recently, Harpreet Singh gave an ultimatum to the Punjab government to release all the Sikh youths who protested the action taken against Amritpal Singh.
The security has been tightened in Punjab including the Golden Temple after the Punjab police received a tip-off that Amritpal Singh might surrender. Amritpal Singh put three conditions before Punjab police to surrender. The conditions are his arrest must be shown as surrender, he must be kept in Punjab jail and no torture in police custody.
A special intelligence team has been deployed outside the Golden Temple after intelligence reports stated that Amritpal Singh might arrive in the Golden Temple in disguise before surrendering. There is also a possibility that Singh will visit the Darbar Sahib complex disguised as a female. The police said there are also chances of him visiting the Sikh worship places in nearby cities. The police are on high alert in Amritsar, Bathinda, Anandpur Sahib and Hoshiarpur.