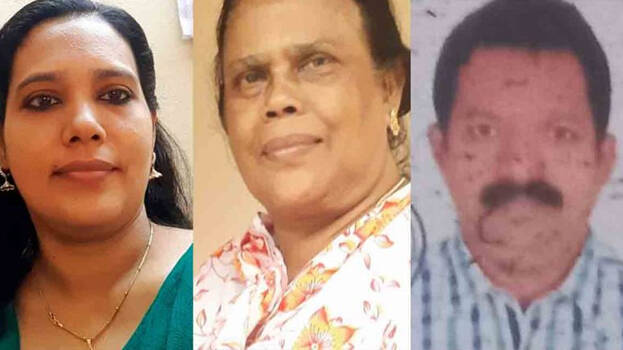 THIRUVANANTHAPURAM: Senior superintendent of nursing college of Thiruvananthapuram Medical College who attempted suicide by setting him ablaze after killing his wife and mother-in-law, is in a very serious condition. Ali Akbar (56) of Azhikode in Aruvikkara hacked his wife Mumtaz (47) and his mother-in-law Zaheera (67) to death yesterday. Mumtaz was a teacher of Nedumangad Higher Secondary School. The police found a suicide note of eight pages written by Ali Akbar hinting reason as financial liability and family issues.
Two murders and a suicide will happen today
'Two murders and a suicide will happen here today. No one has any involvement in my deeds committed due to family issues. Financial liability and family issues are the reason for it,' Ali Akbar's suicide note to the police and his relatives just before the crime is described in eight pages. Along with financial liability, his wife deserting him drove him to commit the murder.

Ali Akbar, who had given his salary certificate as collateral to his relatives and friends to take loans, turned a huge liability for him. As many defaulted on their loans, the amount was deducted from his salary. He incurred a huge financial liability in terms of building a house and taking a car loan. Meanwhile, when his wife Mumtaz took over his financial obligations, the property and house bought in Pulikuzhi were transferred to her name. Ali decided to sell the property and the house as the financial obligations turned too much, but Mumtaz and his mother-in-law Sahira opposed it.
Ali Akbar borrowed huge amount from many people to pay his debt. Inability to pay back money to creditors on time also put pressure on him. Ali was forced to kill his wife and mother-in-law as they opposed him in selling the house to repay his debt. The police believe that Ali did the crime after days of planning and preparation. The police believe that petrol, machete, screwdriver, hammer and a long letter are signs of this. The police concluded that Ali was waiting for her daughter, who is a class 10 student, to finish her exams. The letter describing all the important stages in the life of both of them, including getting a job, marriage with Mumtaz and children's education, was written on eight white papers and kept inside the house for the people to notice. He also attached orders in domestic violence cases related to Mumtaz's pending the case in the family court.
He has cursed himself in the letter for the miscalculation that ruined his life and apologizes to the natives and his children. The letter ended by advising that his son, an engineering graduate, will get a job and that his daughter should be educated well and both of them should live well. The letter is in police custody. Ali Akbar also mentioned about the letter in his death statement. Aruvikara police registered a case based on the statement of his son Arfan who came from Ernakulam after knowing the incident. Arfan and Arshita were shifted to their relative's house after the house was sealed by the police.
Ali Akbar is in the Burns ICU in medical college in a critical condition. The tragic incident that shocked the nation took place at around 4 am Thursday morning at their house in Pulikuzhi near Valavetti.

The police said Ali Akbar, his wife Mumtaz, their daughter Arshita and Mumtaz's mother Zaheera were in the house on the day of the incident. Son Arfan, is an engineer at Infopark in Ernakulam.

Ali Akbar, a native of Manacaud, and his wife Mumtaz, a native of Nedumangad Anad, built a house in Pulikuzhi 15 years ago. As marital problems worsened, Ali Akbar lived on the first floor and Mumtaz and her children along with her mother Zaheera lived on the ground floor. A petition for divorce has been filed in the Nedumangad family court.
When Mumtaz, who was fasting went to the kitchen to make food early morning, Ali Akbar, who was waiting, slashed her neck and hit her on the head with a hammer. Ali Akbar also hacked her mother Zaheera when she rushed to the spot hearing the screams of her daughter. Ali Akbar chased his daughter Arshita when she came there. By the time Arshita came with the neighbour, Mumtaz and Zaheera were profusely bleeding and were unconscious.

Seeing the neighbors, Ali Akbar entered the room, poured petrol on his body and set him ablaze. Aruvikkara police arrived and took all three to the hospital, but Zaheera died Thursday morning and Mumtaz at 5:30 pm in the evening. The cause of death was a fatal hack on the neck, a hit on the head with the hammer and a stab using a screwdriver. The magistrate has recorded Ali Akbar's statement that he committed the crime.

Zaheera's body was handed over to her relatives after post-mortem. Mumtaz's body was shifted to medical college mortuary for post-mortem. The Aruvikkara police have registered a case.