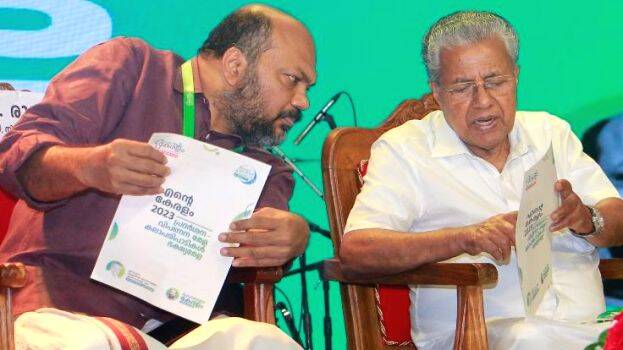 KOCHI: Chief Minister Pinarayi Vijayan said that the state government will give priority to making Kerala a world-class tourism destination. He was inaugurating the state-level 'Ente Keralam' exhibition-marketing-cultural fair organized at Marine Drive in Ernakulam as part of the second-anniversary celebrations of the state government.
"The aim is to raise the economic and social scene of Kerala within the next 25 years up to the level of middle-income countries in the world. Many action plans have been initiated with that aim in mind. Tourist centres like Kovalam, Alappuzha, Kuttanad, Kumarakam, Beypur and Bekal will be raised to international standards," the CM said.
"Unity is the strength of Kerala. But the policy of the opposition is that no development should come up in the state. They are free to point out any mismanagement or delay in government activities. It is not opposition etiquette to turn a blind eye to any development. The people of Kerala should assess the policy of UDF which boycotted the second-anniversary celebration of the government. The UDF also boycotted the Vaikom Satyagraha centenary celebrations," he said.
"This government has implemented development worth 18,000 crores through KIIFB in the last two years. Many of them are about to be inaugurated. In terms of project implementation, we have made no distinction between UDF and LDF constituencies. The government has implemented social justice. Will those who boycott all the programs also boycott the inauguration of the already completed KIIFB projects?" he asked.
Ministers K Radhakrishnan, P Prasad, Ahamed Devarkovil, Roshy Augustine, Antony Raju and MLAs Kadannappally Ramachandran, PV Srinijan, KJ Maxi, KN Unnikrishnan, Mayor Adv M Anilkumar and others were present. Chief Secretary V.P. Joy delivered the welcome speech.
Preparing for tourists
1. 125 crores have been earmarked for the construction of new airstrips in Idukki, Wayanad and Kasaragod districts to land chartered flights of tourists.
2. Construction of the 615 km long Bekal-Kovalam West Coast Canal is in progress. 300 crores have been earmarked to acquire land on both sides of the canal to develop tourist attractions once the construction of the canal is completed.
3. Facilities will be arranged to eat local food and enjoy folk arts in such centres. Another Rs 300 crore has been earmarked for land acquisition for exhibiting folk art fairs and tourism development in Kumarakom.