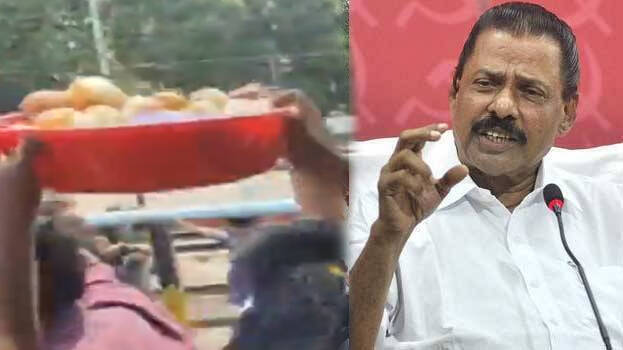 KOZHIKODE: Vande Bharat trail run in Kerala turned into a jibe fest against LDF state secretary M V Govindan on Monday. The BJP supporters swarmed Kozhikode railway station welcoming Vande Bharat by distributing Neyyappam, the rice fritter cake laced with ghee. The supporters even gave the sweet to the loco pilots mentioning M V Govindan's name.
Earlier, while elaborating on the silver line project, M V Govindan created a good yarn with his 'Neyyappam' story. Trolls and jibes came pouring from all sections and it has shown no stopping ever since. Even BJP leader P K Krishnadas gave a repartee to Govindan's appam story. Whatever be it, Govindan still stresses about Vande Bharat not superseding the silver line project. He ridiculed the train service saying, the appams would go stale if made to travel inside Vande Bharat trains.
Answering Govindan's takedown on the Vande Bharat train, the BJP supporters cheered the new elite introduction by shouting Govindan's name and giving the ghee-laced neyyappam to everyone around the station.